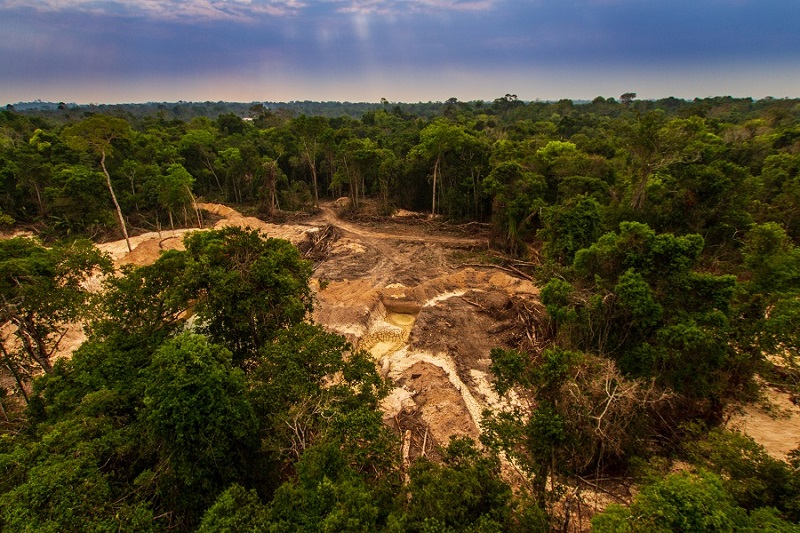 illegal mining causes deforestation and river pollution in the amazon rainforest near menkragnoti indigenous land. pará, brazil
Brazil's Amazon rainforest reaches a new deforestation record
The portion of the Amazon rainforest impacted by deforestation in the initial three months of 2022 was the highest ever seen, as per Brazil's National Institute for Space Research (INPE).
INPE's new report was published Friday. It said that about 941.34 square kilometres of the forest were cleared by March this year, the largest recorded since the institute initiated monitoring deforestation rates in 2016.
It is pertinent to state that the area cleared is about the size of Dallas, Texas.
Experts observed that last year, an estimate of 573.29 square kilometres of the forest was cleared.
Experts say that the destruction of the world's largest rainforest has spiked since Brazilian President Jair Bolsonaro took office in 2019, resulting in weakening environmental protections. Experts argue that Bolsonaro hindered economic development that could help reduce poverty in the Amazon region.
Related Posts
Brazil's Environment Ministry and the President's office have stayed mum over the matter.
On Monday, a UN climate panel report claimed that the governments were not doing enough to rein in greenhouse gas emissions to avert the effects of global warming. According to the report, deforestation accounted for about 10% of global emissions.
"Brazil is a prime example of what the UN climate report has been saying. We need to call governments out when they are not taking the necessary actions," said a forest campaigner in Brazil.
"We have a government that deliberately goes against the mandatory steps to limit climate change," Cristiane Mazzetti said.
Some scientists have predicted that deforestation will continue to surge ahead of Brazil's October presidential election.
Environmental enforcement weakens in election years, and criminals rush to deforest ahead of a new government assuming power, according to Carlos Souza Jr, an Imazon researcher.
On Thursday, Meta, Facebook's parent company, announced that it had removed 14 numerous accounts and pages for posting fake information related to deforestation.