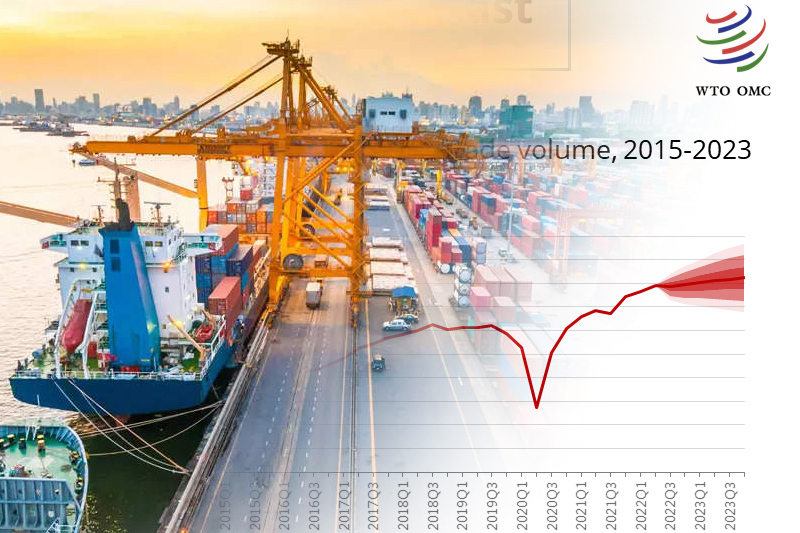 wto predicts sharp slowing of world trade in 2023
WTO predicts sharp slowing of world trade in 2023
The global trade growth is expected to lose its momentum in the second half of this year, with the pattern continuing in 2023. This pattern is predicted as the global economy faces multiple shocks, including effects from the Russia's war in Ukraine, as according to the latest forecast from the World Trade Organization (WTO).
The UN agency has warned against imposing trade restrictions that can in turn lead to further slowing down of trade growth and leading to lowered living standards. Global merchandise trade volume is estimated to grow 3.5 per cent in 2022, or slightly better than the 3.0 per cent anticipated in April, WTO has noted, adding that the volume will slow down to 1 per cent next year, which is a sharp decline from the 3.4 per cent that was previously estimated.
BREAKING: WTO revises its 2023 trade growth forecast downwards to 1% from 3.4%, as forecast in April, as the global economy struggles under the impact of multiple shocks. 2022 trade growth will be 3.5%. The #WTOForecast is here: https://t.co/S5PeiQ5KwR pic.twitter.com/hBZQqFtPF1

— WTO (@wto) October 5, 2022
"Demand for imports is expected to weaken as growth slows in major economies for different reasons," WTO said. Meanwhile, the developing nations can in high probability face severe food insecurity as well as increased and continuing debt as import bills for fuels, food and fertilizers will pile up, an impact from the Russia's war in Ukraine.
Keep Reading
Ngozi Okonjo-Iweala, the WTO Director-General, said, "Policymakers face unenviable choices as they try to find an optimal balance among tackling inflation, maintaining full employment, and advancing important goals such as transitioning to clean energy."
"While trade restrictions may be a tempting response to the supply vulnerabilities that have been exposed by the shocks of the past two years, a retrenchment of global supply chains would only deepen inflationary pressures, leading to slower economic growth and reduced living standards over time," she said. "What we need is a deeper, more diversified and less concentrated base for producing goods and services. In addition to boosting economic growth, this would contribute to supply resilience and long-term price stability by mitigating exposure to extreme weather events and other localized disruptions."
According to WTO, the Middle East is going to showcase the strongest export growth this year of 14.6 per cent, which will be followed by Africa, North America, Asia, Europe, and South America.