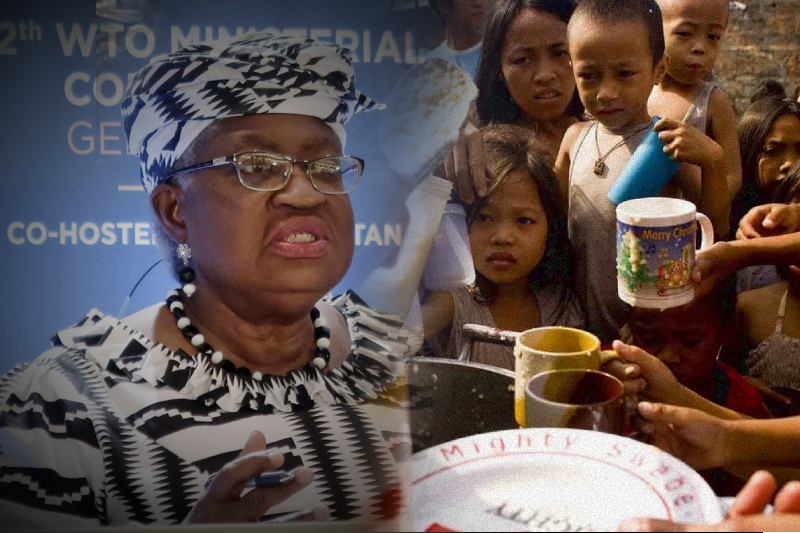 wto ministerial conference chalks down measures to tackle food insecurity and vaccine inequity
WTO Ministerial Conference chalks down measures to tackle food insecurity and vaccine inequity
On Sunday, with launching of agency's highest – level meeting in about four and a half years, the head of the World Trade Organization (WTO) predicted a "bumpy and rocky" road. The meeting is expected to include blazing issues like pandemic preparedness, food insecurity.
In her opening speech to the 12th WTO Ministerial Conference in Geneva, DG Okonjo-Iweala stressed that over the next few days of conference members will "have a chance to show the world that the WTO can step up to the plate." Striking agreements in Geneva "will enhance the ability of all members to respond to people's aspirations at home — aspirations for food, for health, for security, for better jobs, higher living standards, and a sustainable environment on land, in the oceans, and in our atmosphere," she said.
Director-General Ngozi Okonjo-Iweala hopes the meeting involving over 120 ministers from the agency's 164 member countries will bring in progress toward tackling and decreasing inequality and ensuring fair and free trade across the countries.
"The road will be bumpy and rocky. There may be a few landmines on the way," Okonjo-Iweala said. "We'll have to navigate those landmines and see how we can successfully land one or two deliverables."
Series of crises a testing time
She said that series of global crises such as the Covid-19 pandemic, environmental catastrophes like droughts, floods and heat waves; and global inflation, have been further compounded by food shortages and increased fuel prices due to Russia's war in Ukraine. She underlined that higher prices are "hitting poor people the hardest."
"With history looming over us, with that multilateral system seemingly fragile, this is the time to invest in it, not to retreat from it," Okonjo-Iweala said. "This is the time to summon the much-needed political will to show that the WTO can be part of the solution to the multiple crises, the global commons that we face."
Easing or lifting export restrictions
The conference will bring in ministers to consider whether to lift or ease restrictions on export of food to help nations that are facing a shortage of wheat, fertilizer and other products. They will also decide on need to increase support for the U.N.'s World Food Program.
"I strongly urge the WTO members with the capabilities to commit at MC12 to exempt their donations to the World Food Program from any export restrictions," said Katherine Tai, the U.S. trade representative, referring to the 12th ministerial conference at the WTO.