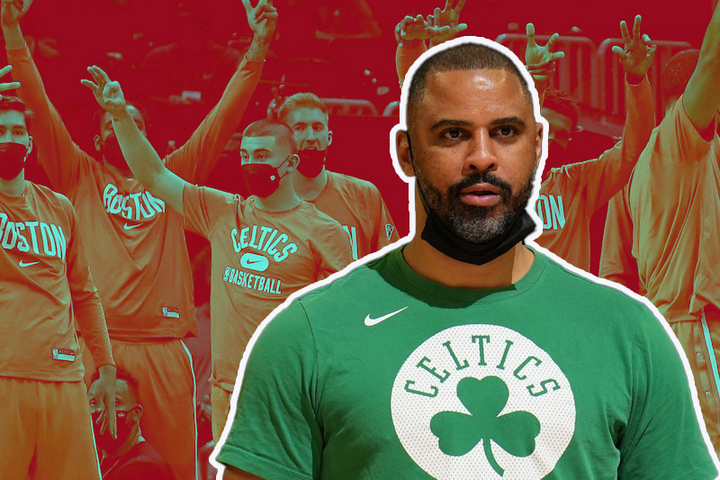 celtics suspend coach ime udoka for 2022 2023 season 720
Why did the Celtics' head coach get suspended?
On Thursday, September 22, the Boston Celtics announced that head coach Ime Udoka would be suspended for the entirety of the 2022-2023 season for what the team referred to as "violations of team policies."
According to reports that surfaced on Thursday morning on The Athletic and ESPN, Udoka engaged in an inappropriate intimate connection with a female employee of the company, and the relationship was mutually consenting.
The organization's code of conduct had been broken by the relationship in question.
The franchise stated in a press release that a decision regarding his future with the Celtics beyond this season will be made at a later date. "The suspension goes into effect at this very moment."
According to ESPN and The Athletic, Boston's assistant coach Joe Mazzulla will serve as the team's head coach during the 2022-2023 season.
Udoka issued an apology in a statement that was made public on Thursday night. "I want to apologize to our players, fans, the entire Celtics organization, and my family for letting them down," he said.
Keep Reading
"I apologize to the team for placing them in such a precarious position, but I will respect whatever conclusion they come to. I am going to refrain from making any further comments out of respect for everyone who was engaged."
On Wednesday night, initial reports suggested that Udoka would be subject to disciplinary action, and that the league and the Celtics were reportedly having conversations to decide the appropriate course of action.
The NBA did not investigate Udoka since Boston handled the situation on their own within the organization.
Udoka, who is 45 years old, led the Celtics to the NBA Finals in his first season as head coach, but they were eventually unable to win and were eliminated by the Golden State Warriors in six games.
After finishing the regular season with a record of 51-31, Boston proceeded to the playoffs where they were victorious over the Brooklyn Nets, Milwaukee Bucks, and Miami Heat.
Also Read: Is Autumn Falls really dead?
Also Read: Is Autumn Falls really dead?
After a seven-year playing career in the NBA, Udoka has most recently held the position of assistant coach with the San Antonio Spurs (2012-2019), Philadelphia 76ers (2019-2020), and Brooklyn Nets (2020-2021).