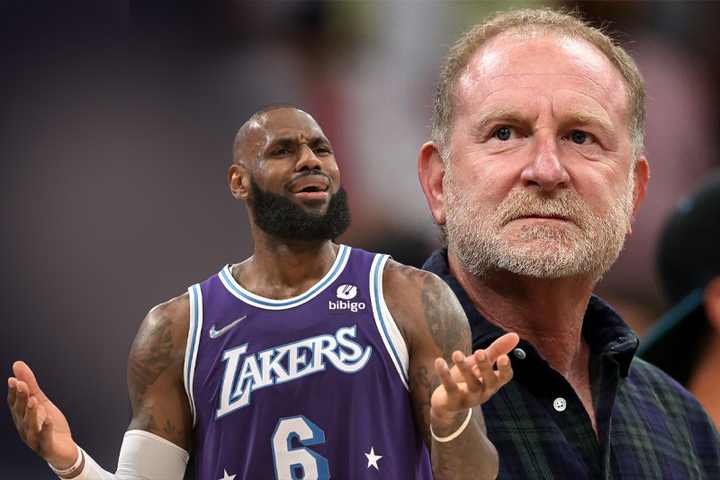 lebron on sarver punishment 720
'The League definitely got this wrong,' says LeBron of Sarver's punishment
LeBron James, a forward for the Los Angeles Lakers, was critical of the National Basketball Association (NBA) on Wednesday, September 14, and stated that the punishment handed down to the owner of the Phoenix Suns for his use of racial slurs and unequal treatment of female employees was not severe enough.
An independent investigation was conducted into claims that Sarver engaged in inappropriate behavior at work, which resulted in the NBA suspending him for one year and fining him $10 million on Tuesday. In 2004, Sarver had purchased the Phoenix Suns as well as the WNBA's Phoenix Mercury.
James, a four-time NBA champion and the face of the league, stated that he looked over the facts of the Sarver incident a few times and believes the league should have zero tolerance for behavior of this nature regardless of the offender's standing. James is the face of the NBA.
"There is no question that our league got this wrong. There is no need for me to explain why." James asked on Twitter encouraging his followers to read the articles and come to their own conclusions. "I've said it before, and I'm going to say it again, that kind of behavior has no place in this league. There is simply no room for it."
"I adore this league, and I have the utmost regard for those who hold top positions. However, this is not correct. Any workplace that tolerates misogyny, sexism, or racism is not fit for human habitation. It makes no difference whether you own the team or whether you play for the team. We use our league as a model for how our beliefs should be lived out, and this ain't it."
Keep Reading
Chris Paul, a guard for the Suns, and Tamika Tremaglio, executive director of the National Basketball Players Association, both voiced their disagreement with the decision in the Sarver case on Wednesday.
Paul shared his thoughts regarding the report on his Twitter page, writing, "Like many others, I examined the report. What I read both horrified and disappointed me, and it continues to do so. This behavior, particularly toward women, is intolerable and must never be repeated."
"I am of the opinion that the consequences did not go far enough in effectively addressing what we can all agree was appalling behavior. My thoughts and prayers are with everyone who was impacted by this tragedy."
Tremaglio made a statement that included the following passage: "Mr. Sarver's reported behaviors and conduct are abhorrent and have no place in our sport or any workplace, for that matter."
After the punishment was handed down, Sarver issued a statement in which he said he disagreed with several aspects of the NBA report but wanted to apologize for his comments and behavior that had affected employees. The statement came after the punishment had been handed down.
When speaking to reporters after the conclusion of the league's Board of Governors meetings on Wednesday, Silver indicated that Sarver's punishment could have been harsher if investigators had not determined that his use of slurs was not motivated by racial or gender-based animus. Silver's comments came after it was determined that Sarver's use of slurs was not motivated by racial or gender-based animus.