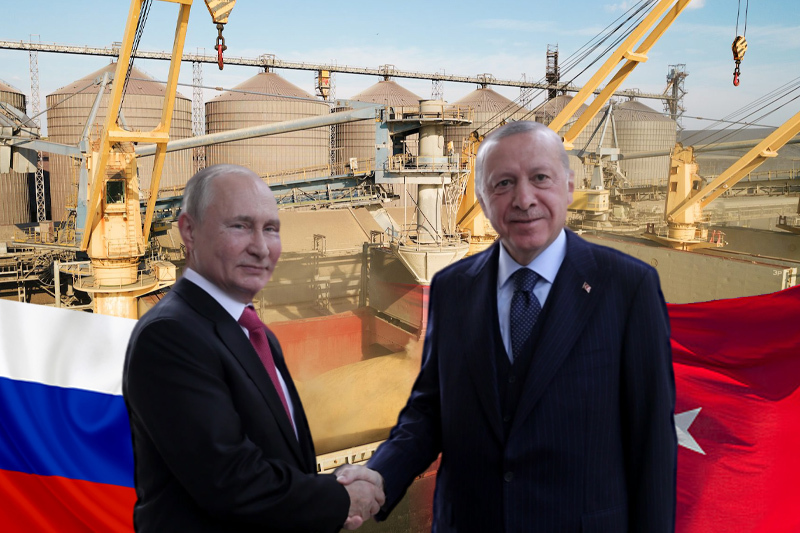 what putin seeks to achieve as he meets erdogan
What Putin seeks to achieve as he meets Erdogan?
Turkish President Recep Tayyip Erdogan on Friday arrived in Russia for bilateral talks with Russian President Vladimir Putin with one of the main focuses on the grain deal that was brokered by Turkey and the UN that led to release of grain shipments from Ukraine ports that had been blocked since Russian invasion on Ukraine, providing a big relief to growing global food crisis. The other agendas include talks on ending war in Ukraine, the Syrian situation and growing economic and trade ties between Moscow and Ankara.
Turkey's role in Ukraine grain crisis resolution
The meeting between Putin and Erdogan in Russia's southern city of Sochi took place as Moscow's invasion in Ukraine continues for sixth month. "I hope that today we can sign a memorandum on strengthening our economic and trade ties," Putin said at the start of the meeting with Erdogan, that was broadcast on Russian television, hinting at his hopes from the meeting with Turkish president.
Related Posts
"Thanks to your direct involvement and the mediation of the UN Secretariat, the problem of Ukrainian grain deliveries from the Black Sea ports has been resolved. Deliveries have already started, and I would like to thank you for that," Putin said thanking Erdogan for his efforts to broker a deal between Kyiv and Moscow on delivery of grains from Ukraine's ports in Black Sea.
The two leaders released a joint statement regarding the energy, trade and economic ties between both countries, but left out any mention of Russia's expanding invasion in Ukraine. The statement also made no mention of any new offensive by Turkey against Kurdish militia in Syria. "The determination to act jointly and in close coordination with each other in the fight against all terrorist organizations was reaffirmed," the joint statement noted.
What was achieved through bilateral talks?
Russia's Deputy Prime Minister Alexander Novak said after the meeting that the leaders have agreed that Turkey will start paying for Russian gas supplies partially in rubles. Moscow has earlier switched to rubles in its gas trade with EU to avoid Western sanctions that had blocked majority of payments in euros and also froze Russian currency reserves abroad. "Very important decisions that were reached during today's talks will take our economic and trade ties to a new level in practically all areas," he told reporters.