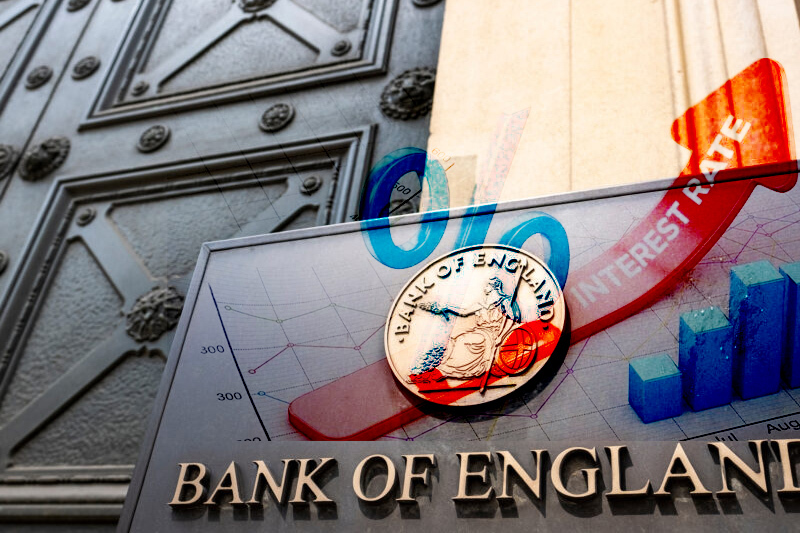 continuing uptick in inflation pushes bank of england to hike interest rates
Continuing uptick in inflation pushes Bank of England to hike interest rates
The invasion of Ukraine by Russia's Vladimir Putin, with no resolution in sight, is pushing global economy to brink as rising inflation endanger further ruckus. The Bank of England has predicted that the British recession might continue over a year with inflation reaching as high as 13 per cent in October. With this warning the Bank of England has raised its interest rates for a sixth consecutive time.
Threadneedle Street has announced an increase in borrowing costs by 0.5 percentage points (50 base points) to bring it to 1.75 per cent, making it the highest increase in interest rates by the bank in 27 years. The authorities have blamed Russia's Ukraine war for increasing pressure in the cost of living in United Kingdom that has not been seen in more than four decades. The Bank of England further notes a 5 per cent drop in living standards that will be continuing for this year as well as the next.
Andrew Bailey, the governor of Bank of England, said "there is an economic cost to the war", as he predicted "the economy was on course for a period of stagflation – a recession combined with a soaring cost of living". Explaining the difficult decision to increase the interest rates, Bailey said the bank needed to take it to prevent the constant rise in prices to become a permanent feature. "If we don't act now to prevent inflation becoming persistent, the consequences later will be worse, and will require larger increases in interest rates," he said. "Returning inflation to its 2% target remains our absolute priority, no ifs, no buts."
Further hike to be expected
Bank of England's MPC (monetary policy committee) has hinted towards likely further increase in interest rates. MPC said it would be "particularly alert to indications of more persistent price pressures, and will if necessary act forcefully in response". The MPC has noted that it expects a rise in the energy price cap to bring it to approximately £3,500 in October leading to inflation reaching 13.3 per cent, triggering a "five-quarter recession that will last from the final three months of this year until the end of 2023".