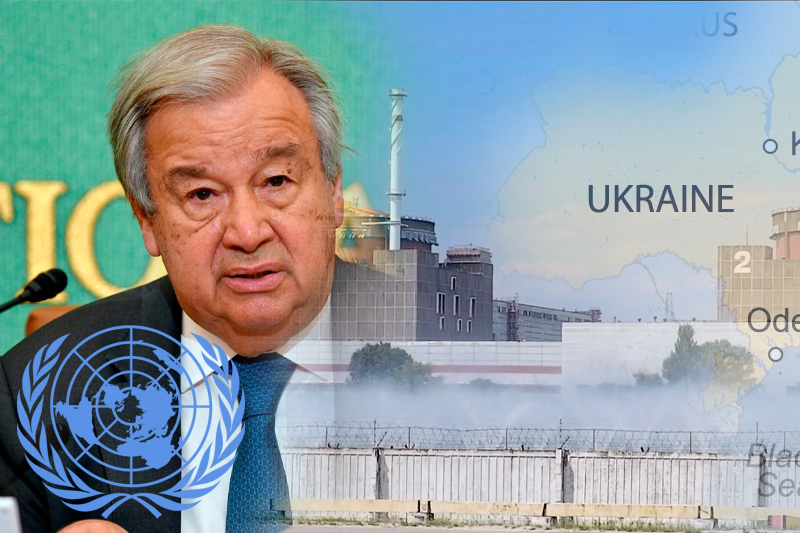 UN chief calls for urgent access to Ukrainian nuclear plant over "suicidal" attack
UN chief calls for urgent access to Ukrainian nuclear plant over "suicidal" attack
"Any attack to a nuclear plant is a suicidal thing," Guterres said during a news conference on Monday in Japan, two days after he attended the Hiroshima peace memorial ceremony to commemorate the 77th anniversary of the atomic bombing on Hiroshima that brought an end to World War II. 
The UN secretary general António Guterres, has called for international inspectors at UN nuclear watchdog agency, IAEA (International Atomic Energy Agency) to be given access to the Zaporizhzhia nuclear plant in Ukraine after Kyiv and Moscow accused each other over the weekend's shelling of Europe's largest atomic plant. "We fully support the IAEA in all their efforts in relation to create the conditions of stabilisation of the plant," Guterres said.
Echoing UN chief's calls for access to international inspectors, Ukraine's ambassador to the IAEA, Yevhenii Tsymbaliuk said "Russian forces were attempting to cause electricity blackouts in southern Ukraine by shelling the plant". The plant was captured in early March at onset of Ukraine war by Russian forces but is still being operated by Ukrainian technicians. On Saturday, the director general of the IAEA, Rafael Mariano Grossi, also expressed extreme concerns over the shelling. He said that the shelling "which underlines the very real risk of a nuclear disaster that could threaten public health and the environment in Ukraine and beyond."
Related Posts
According to Ukrainian authorities, Russia has renewed shelling over the weekend that caused damages to three radiation sensors at the nuclear plant and also injured a worker at plant. It is to be noted that this was second consecutive hit on the plant. 
Ukrainian President Volodymyr Zelensky has accused Moscow of waging "nuclear terror" and demanded stricter sanctions on Russia, specifically targeting its nuclear sector. "There is no such nation in the world that could feel safe when a terrorist state fires at a nuclear plant," Zelensky said. Trading accusations, Russian authorities stationed in Ukraine have said that Ukraine's multiple rocket launcher had hit the site, causing damages to the building and a nearby storage facility. Russian embassy in Washington released a statement, "Ukrainian nationalists launched an artillery strike on the territory of the specified object on August 5. Two high-voltage power lines and a water pipeline were damaged as a result of the shelling. Only thanks to the effective and timely actions of the Russian military in covering the nuclear power facility, its critical infrastructure was not affected."