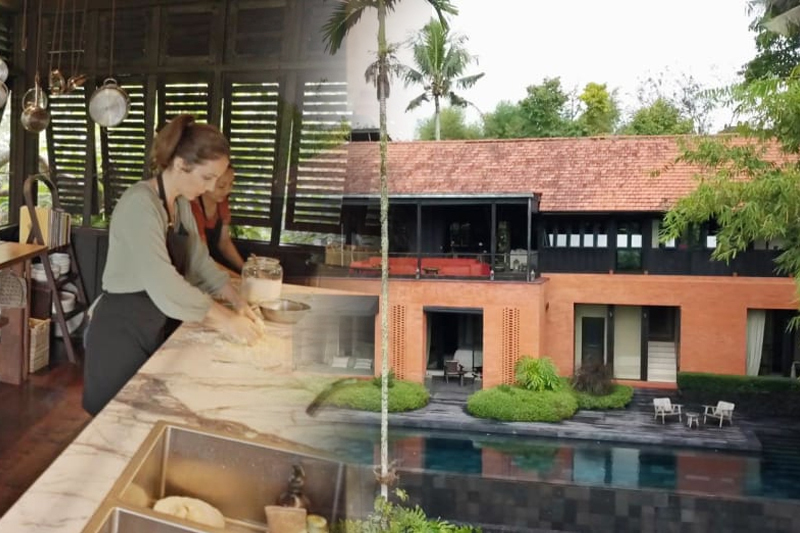 This longhouse in Bali is built from lava stones of volcano Mt Agung
This longhouse in Bali is built from lava stones of volcano Mt Agung
Rumah Fajar or House of Dawn is a modern interpretation of a Balinese longhouse that architect Maximilian Jencquel has built for his family in the Bali's rainforests of Ubud. The most interesting spin is that the house is intricately built from lava stones from volcano Mount Agung – clearly a creative result in aftermath of a destructive event linked with volcanos.
Rumah Fajar is located on a slope along the valley of the Campuhan River and overlooks the island's Mount Agung volcano. The four bedroom villa, sprawls across 20,500 sq ft of land. It was built in 2017 which is around the same time when the volcano erupted. "We were in the middle of building all these walls with the lava stone, and the supply for the lava stone comes from the volcano so it was providing us with more material to build the house," said Jencquel, who owns a boutique architecture studio in Ubud where he designs homes that feature Balinese vernacular architecture. "There was this idea that Mother Earth was giving us the materials that we needed to build the house."
Related Posts
It took several years to build the house that includes many materials which are somehow related to earth and fire. One such example are the oven-fired bricks of deep red colour that represent the volcano and also the shades of the sunrise. "The wood is blackened, which is also related to this idea of volcanic eruption and the colour of the red brick reminds us of the lava flow that we witnessed live as we were building. We would come here in the evenings and see Mount Agung erupting and this glow coming out of the volcano," said Jencquel.
Stefanie, Jencquel's wife expressed her love for the island and people. "We love this neighbourhood. We love the valley and the view, and the sunrise. We get the most beautiful sunrise. It is the best time of the day."