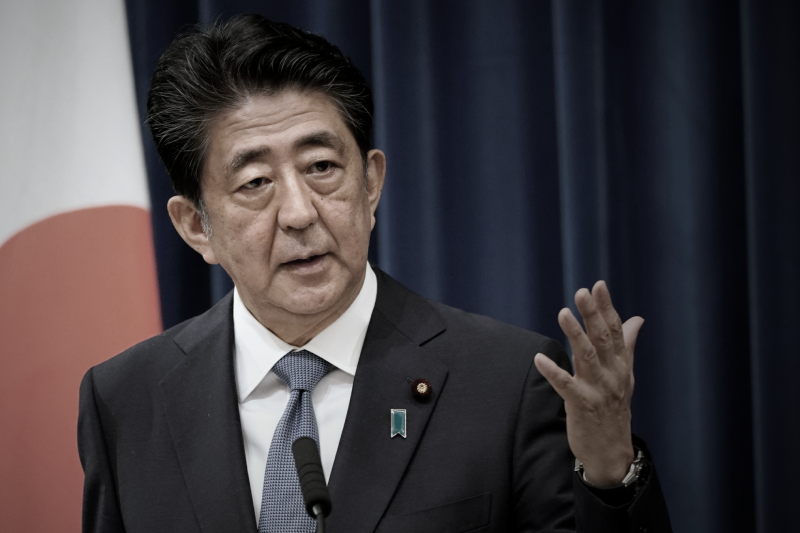 japans ex pm shinzo abe critically shot
BREAKING NEWS: Japan's ex-PM Shinzo Abe pronounced dead after being shot earlier today
Last updated on September 5th, 2022 at 06:28 am
The longest serving Prime Minister of Japan, Shinzo Abe, known for his "Abenomics policy" has been pronounced dead after he was shot on Friday during a campaign speech in western Japan. The former Japanese prime minister was airlifted to a hospital but was reportedly not breathing and his heart had stopped, a state of cardiopulmonary arrest. Local fire department official Makoto Morimoto said Abe was in "cardio and pulmonary arrest after being shot and was taken to a prefectural hospital".
Chief Cabinet Secretary Hirokazu Matsuno has told the media that police have arrested an alleged male attacker at the scene. "A barbaric act like this is absolutely unforgivable, no matter what the reasons are, and we condemn it strongly," Matsuno said.
NHK public broadcaster aired a footage showing when Abe collapsed on the street, as many security guards ran toward him, He was reportedly shot a few minutes after he has started his campaign outside of a main train station in western Nara.
The weapon used to attack Abe
Media reports have quoted police as stating that the weapon which is thought to have been used in the attack is homemade. A photograph showed "two cylindrical metal parts that appeared to have been heavily bound with black tape lying on the road near the scene of the attack".
Police have arrested Yamagami Tetsuya, a Nara resident in his 40s, in relation to the shooting, according to public broadcaster NHK, citing police sources. NHK has reported that the man did not try to run away.
Condolences rush in from across the world
Australian Prime Minister Anthony Albanese has said his "thoughts are with Shinzo Abe's family, and with the people of Japan".
Shocking news from Japan that former PM Shinzo Abe has been shot – our thoughts are with his family and the people of Japan at this time

— Anthony Albanese (@AlboMP) July 8, 2022
Former Australian PM Scott Morrison posted his statement on Facebook, "I am deeply distressed to hear the reports of the alleged attack on former Japanese PM Shinzo Abe. PM Abe is a great and wise friend of Australia and one of the most important global leaders of the post war era. Our prayers are with him, his wife Akie and the people of Japan at this very difficult time."
The United States is "saddened and shocked" by the attack on Japan's former prime minister Shinzo Abe, US ambassador Rahm Emanuel said. "Abe-san has been an outstanding leader of Japan and unwavering ally of the United States," Emanuel said in a statement. "The U.S. government and American people are praying for the well-being of Abe-san, his family, and the people of Japan."
US Secretary of State Antony Blinken said he was "deeply saddened", while speaking from Bali where he is present for G20 summit. "I do have to say before we meet how deeply saddened and concerned we are by the news about the Prime Minister," Blinken said. "This is a very, very sad moment and we are awaiting news."
Critical condition of Shinzo Abe – state of cardiopulmonary arrest
Japanese media have said that Shinzo Abe is in a state of cardiopulmonary arrest after the attack as he was rushed to hospital. No further updates have come since this last report about two hours.
Former PM shot at even though Japan has strict gun laws
The shooting of Shinzo Abe has shocked entire Japan, country having one of the lowest rates of gun crime across the world due to strict gun control laws.
Under Japan's firearms laws, "the only guns permitted for sale are shotguns and air rifles — handguns are outlawed". But even getting them is a long, complicated process.