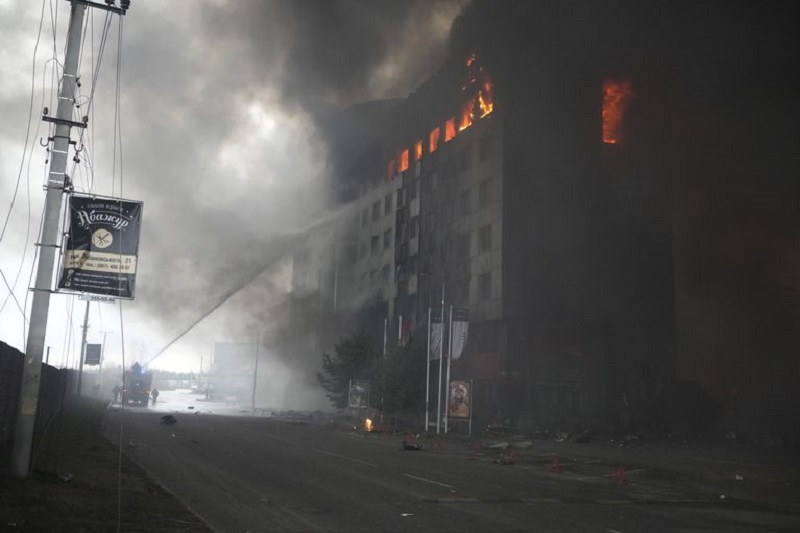 fire controlled at europes largest nuclear plant
Fire controlled at Europe's largest nuclear plant
Last updated on March 5th, 2022 at 06:58 am
Europe escaped a huge scare after it diffused fire at the largest nuclear plant.

On Friday, there was a huge fire at the site but the officials on ground later on confirmed that they managed to control the situation in southeastern Ukraine. The area was occupied by Russian forces which essentially led to causing a global alarm.
The presidential advisor asserted that Ukraine refrained from stepping towards the city of Mykolayiv after local authorities intimated them about the Russian movement. By the time they could fix their place, Moscow was already inside the city.
If Russia completely captures the city, the lives of 500,000 people in southern Ukraine will be put at risk. It is the region where Russia seems to have made the most progress so far. It might also be the biggest fall for Ukraine.
Related Posts
In a message to Reuters, the official said, "Personnel are on their working places providing normal operation of the station." The official explained that the fire at the Zaporizhzhia compound was in a training center and not at the plant itself.
The official also revealed that he was no more in touch with the manager inside the plant. This also means that he or the Ukrainian side was not responsible for the radiation that would have come out of the nuclear plant.
He also confirmed that the situation might be under control as far as the nuclear plant is concerned but when it comes to the country, there is nothing normal. "There is nothing normal about this," the official said.