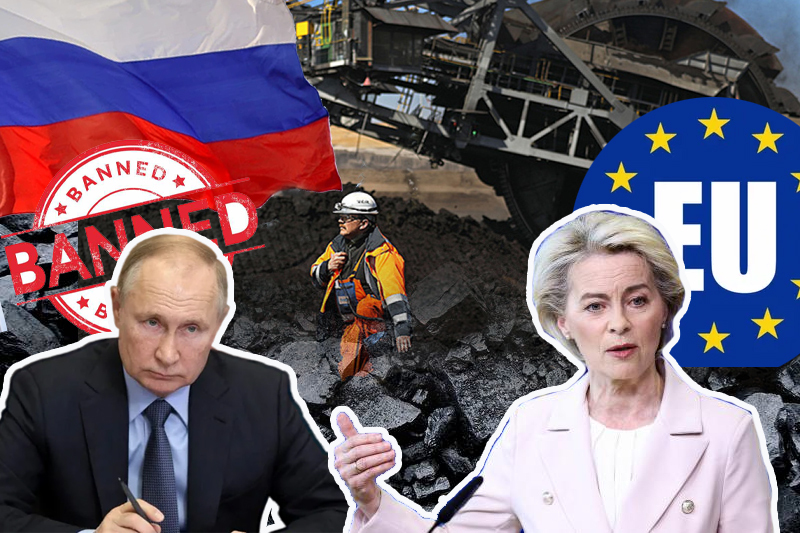 eu bans russian coal as west vows to send arms to ukraine
EU bans Russian coal as West vows to send arms to Ukraine
Complete embargo on Russian coal imports by the European Union has come into effect starting Thursday, marking the fifth round of economic sanctions on Moscow in retaliation to ongoing offensive in Ukraine. The day was also marked by the Western countries pledging to send arms in support of Kyiv as the Ukraine war is escalating with each passing day.
Pledges to support Ukraine
The most highlighted support gained by Ukraine is from Germany, which during the early days of Russian invasion was wary of supporting Kyiv more evidently through sanctions and embargos. Germany's Chancellor Olaf Scholz has described the development as "massive" as the country is "shipping arms — a great, great many, sweeping and very effective. And we will continue to do so in the coming time." The Chancellor added that his administration has approved military exports worth at least $710 million, with further plans to extend greater financial aid to Ukraine.
Related Posts
United Kingdom and Denmark have also made more commitments, at a conference in Copenhagen, to support Ukraine's defense against invasion by Russia. Denmark is releasing a new contribution of $113 million that is expected to "push the total amount of funding from the small northern nation of 5.8 million to over $500 million".
In an effort to put more pressure on Russia, that too is experiencing depleting arsenal, Britain has announced of sending in more multiple launch rocket systems and guided missiles to Ukraine. The missiles are said to be able to hit targets up to 80 kilometers (50 miles) away with a "pinpoint accuracy".
EU's embargo on Russian coal takes effect
Russian coal was the first energy source from country that was sanctioned by the European Union. It was approved for embargo in April as part of fifth sanction package on Russia. Embargo on Russia's seaborne oil was approved in June, that will be part of the sixth round of sanctions by EU on Russia and is expected to come into effect at end of the year. According to the Commission, the "coal embargo should result in a loss of revenue of about €8 billion for Russia".