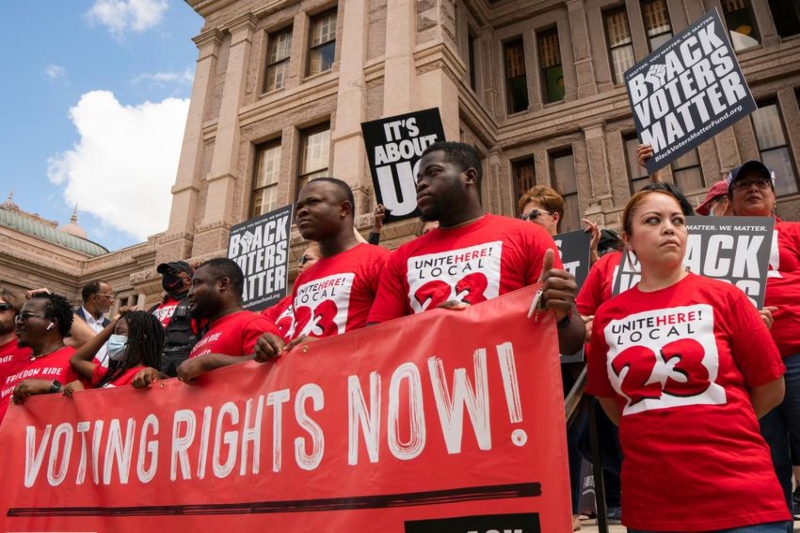 voting rights under attack in texas new voting law includes 7 sweeping changes
Voting Rights Under Attack in Texas: New Voting Law Includes 7 Sweeping Changes
The US state of Texas is under scrutiny and condemnation over controversial law. Last week saw anti-abortion law passed in Texas and this week is the voting law. On Tuesday, Texas Governor Greg Abbott signed the voting bill into law that imposes a series of restrictions on voting rights in the state that is considered a rapidly diversifying state in the country.
Senate Bill 1 was signed by Gov. Abbott after the Republican-led legislature passed the bill. Previous versions of the bill were blocked by Texan Democrats after they left the state for few weeks thus preventing the House to form the required quorum. So, what does the revised bill turned law include?
So, what does the revised bill turned law include?
Ban on 24 Hour Voting
Counties will be prohibited from holding round-the-clock voting provisions, a very popular move in the 2020 election when Harris County in Houston had opened 8 locations with 24-hour voting that was beneficial for shift workers. Now the voting will be restricted to 6 am to 10 pm.
Ban on Drive-Thru Voting
This ban too targets Harris County that had held 10 drive-thru voting centers to ensure safety during pandemics. This had allowed 127,000 people to cast their ballots through a drive-thru facility.
Ban on Mailing Unsolicited Mail-in Ballot Applications by Officials
It would now be a felony under the new law for any official to send a mail-in ballot application to a person who hasn't requested it. Pre-filling any part of the application too is a felony under the new law. The new law also prohibits public officials from facilitating unsolicited distribution by third parties of absentee ballots. This means local election officials are not permitted to give absentee ballot request forms to "get-out-the-votes" groups. However, the law permits political parties to send unsolicited absentee ballot applications.
Related Posts
New Vote-by-Mail ID Rules
Texans who vote by mail are now required to provide an ID – either driver's license number or last four digits of their Social Security Number – twice. Once the ID information is to be provided on absentee ballot application forms and the second time on the envelope in which they send.
Texans who are allowed to mail in their votes are those over 65 years of age, who are out of the country on Election Day, or those having illness or disability that prevents them from voting in person.
Poll Watchers are Empowered
Under the new law, poll watchers cannot be denied 'free movement' at polling centers. They are only restricted from watching voters cast their votes. Under the new law, they are "entitled to sit or stand near enough to see and hear the activity" at the polling place. They are also entitled to watch closing poll activities "including the sealing and transfer of a memory card, flash drive, hard drive, data storage device, or another medium." They are also allowed to follow transferring of all election material to regional tabulating locations.
Voter Rolls Check on a Monthly Basis
People who assist voters with disabilities, but are not voters' caregivers, will now be required to fill a document mentioning their name, address, and relationship to the voter. They would also have to take an oath of following limitations of offering assistance to the voter, promising help would be limited to "reading the ballot to the voter, directing the voter to read the ballot, marking the voter's ballot, or directing the voter to mark the ballot."
After signing the bill into law, Abbott said, "I feel extremely confident that when this law makes it through the litigation phase, it will be upheld. Because exactly what we've said, it does make it easier for people to be able to go vote. No one who is eligible to vote will be denied the opportunity to vote."