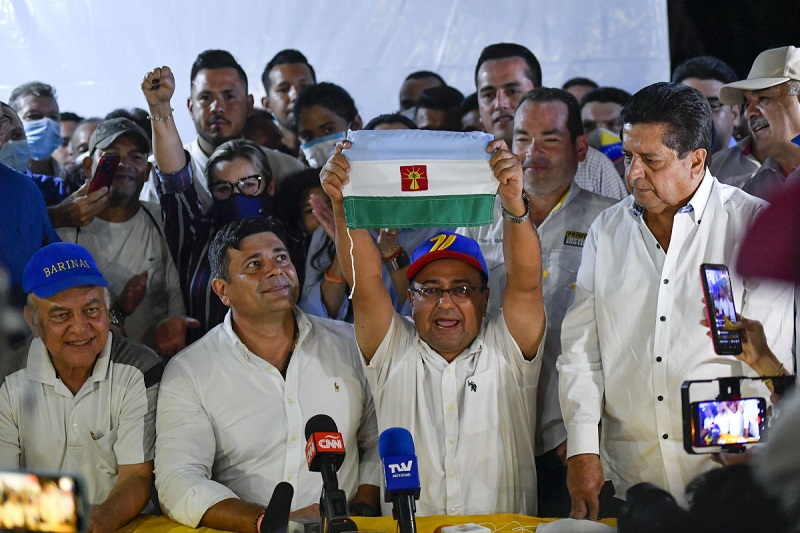 venezuelas opposition beats ruling party in race for barinas governorship
Venezuela's opposition beats ruling party in race for Barinas governorship
Venezuela -On Sunday, a Venezuelan opposition candidate emerged victorious in elections for governor of Barinas – the birthplace of the late Venezuelan president Hugo Chavez.
Thousands of soldiers and police kept a watchful eye on elections.
Held in the fiefdom of the former president, the polls were interrupted mid-count last year when a possible opposition victory caught the establishment unnerved.
The regional election on November 21 appeared to be going the way of Freddy Superlano – an opposition figure.
A court stopped the ballot count as Freddy Superlano claimed what would have been the only defeat for the United Socialist Party of Venezuela (PSUV) in Barinas in 23 years.
A week later, Venezuela's Apex Court also annulled the preliminary result, which showed Superlano's lead. The court was accused of pro-government bias by international observers and the opposition.
It declared Superlano "ineligible" due to "criminal and administrative investigations" and ordered new elections to be held without him.
Related Posts
With Superlano out of the race and other would-be challengers disbarred, the opposition party put forward Sergio Garrido – a regional lawmaker for Sunday's poll in Barinas.
The elections yesterday brought an end to the Socialist party's 22-year rule there.
However, the vote in Barinas will not hamper the Socialist party's control of the governorships in the country. According to experts, it is a symbolic victory for the fractured opposition.
Hugo Chavez remains popular in Barinas, loved by many for linking the country's vast oil reserves to the poor. It is pertinent to state that Chavez is also blamed for the country's miserable economy and high crime rate.
Chavez's father and brothers have held power since 1998 in western Barinas state. The rerun gubernatorial election was held among widespread claims of interference by the ruling party.
Officials unveiled numerous public works projects and delivered social housing during the gubernatorial campaign.