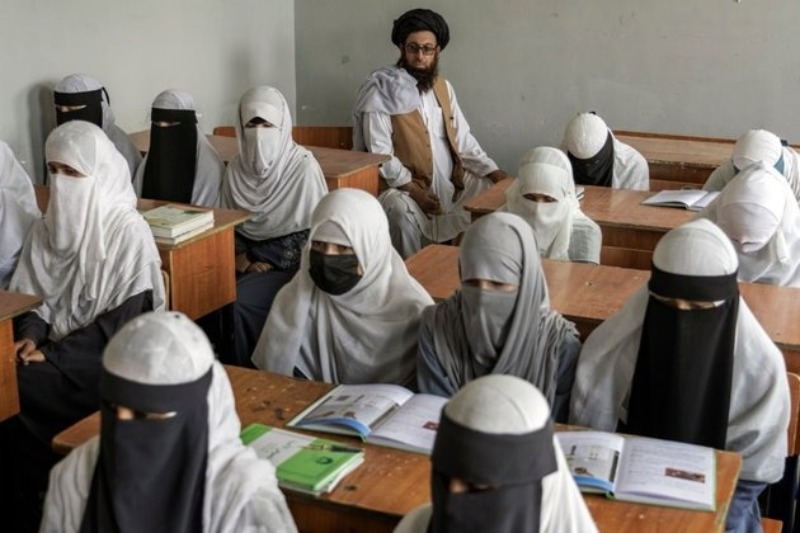 un slams afghan girls' year long education ban as 'shameful'
UN slams Afghan girls' year-long education ban as 'shameful'
The United Nations called the Taliban's decision to close high schools for female students across Afghanistan "tragic and disgraceful" on Sunday (September 18), urging them to reverse their decision and reopen the country's high schools for female students.
Hardline Islamists reopened high schools for boys on September 18, 2021, just a few weeks after the Taliban took control in August of the previous year. However, secondary schoolgirls were not permitted to attend classes during this time.
Several months later, on March 23, the education ministry opened secondary schools for girls; however, within hours of the schools' opening, the Taliban leadership ordered the institutions to once again close their doors.
According to the United Nations Assistance Mission in Afghanistan (UNAMA), since then, there have been more than one million adolescent girls across the country who have been prevented from receiving an education.
Markus Potzel, the acting leader of UNAMA, issued a statement in which he referred to today's date as "a horrible, shameful, and utterly unnecessary anniversary."
"It is terribly destructive to a generation of girls and to the future of Afghanistan itself," he said, adding that the ban had no equivalent anywhere else in the globe. "It is profoundly damaging to a generation of girls and to the future of Afghanistan itself."
The head of the United Nations, Antonio Guterres, encouraged the Taliban to lift the restriction.
On Twitter, Guterres referred to the last year as "an year of wasted knowledge and opportunity that they will never get back."
"Girls belong in school. They have to be allowed back in by the Taliban."
Keep Reading
Several Taliban officials have stated that the ban will only be in place for a short period of time, but they have also provided a long list of reasons as to why the schools are being shut down. These reasons range from a lack of funds to the amount of time required to remodel the curriculum in accordance with Islamic principles.
The education minister was quoted by the local media earlier this month as saying that it was a cultural issue, since many rural people do not want their girls to attend school. This statement was made earlier in this month.
After taking power on August 15 of last year amidst the chaotic withdrawal of foreign forces, the Taliban promised a more lenient version of their harsh Islamist regime that ruled Afghanistan between 1996 and 2001. This promise was made after the Taliban successfully took power on August 15 of last year.
However, within a few of days, they started enforcing harsh restrictions on girls and women in order to conform to their puritanical interpretation of Islam, which had the consequence of excluding them from public life.
In addition to shutting down high schools for female students, the Taliban have also forced women to cover themselves in public, preferably with an all-encompassing burqa, and have banned women from working in numerous positions within the government.
Due to the pressure exerted by families and tribal leaders, a number of secondary schools for females have stayed operational in regions that are geographically distant from the central power centres of Kabul and Kandahar.