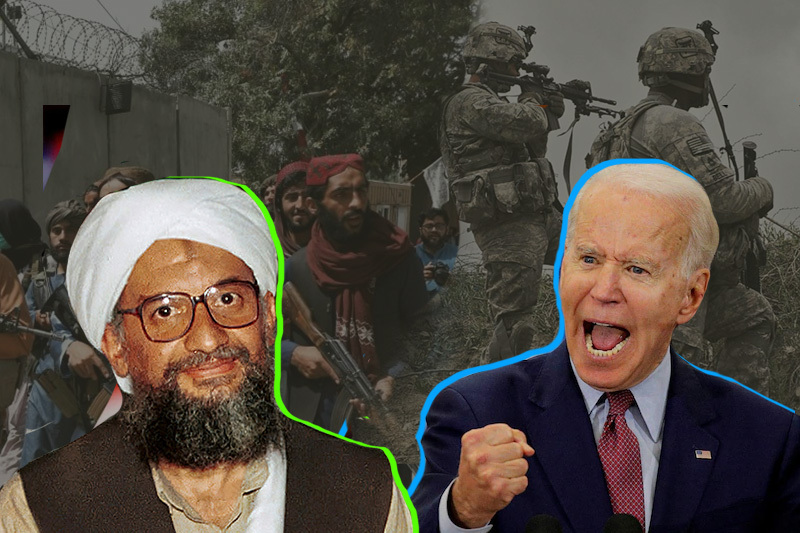 how zawahiris killing is a big win for biden presidency
How Zawahiri's killing is a big win for Biden Presidency?
"Justice has been delivered!" These words swept through the country as US President Joe Biden announced from Blue Room Balcony at the White House that al-Qaeda leader Ayman al-Zawahiri was assassinated by a US air strike at a residential house in Kabul city of Afghanistan on July 31. Biden said that Zawahiri was "was deeply involved in the planning of 9/11, one of the most responsible for the attacks that murdered 2,977 people on American soil. For decades, he was the mastermind of attacks against Americans."
Justice has been delivered
"Justice has been delivered and this terrorist leader is no more," Biden said in a live televised address from the White House. "People around the world no longer need to fear the vicious and determined killer."
The strike carried out by CIA is a proof of America's ability to carry out "over the horizon" operations even though US troops were withdrawn from Afghanistan last year. But this also raises questions about al-Qaeda's continuing presence and operations in Afghanistan after Taliban overtook power last year of the country. The key mind behind 9/11 attacks in US and leader of al-Qaeda, Zawahiri had taken refuge with his family in a safe house in Kabul, according to US officials.
Also Read: Why Does Winona Ryder Have No Child? The Untold Story About Michael Horowitz' Daughter
President Biden had given final approval to carry out the strike after weeks long discussions with the intelligence team. An official said, "Two Hellfire missiles were fired at Ayman al-Zawahiri, who was killed. We are confident through our intelligence sources and methods, including multiple streams of intelligence, that we killed al-Zawahiri and no other individual."
A win for Biden Presidency
The big win is not only towards gaining justice for 9/11, but also is a big win stamped for an otherwise wobbling Biden Presidency. After sudden and chaotic withdrawal from Afghanistan last year, Biden administration had received criticism over the decision. Washington's foreign policy was perceived to be in shambles. But the killing of Zawahiri has brought back Biden Presidency to the forefront. It also highlights the capabilities of US intelligence who carried out a high profile operation in Afghanistan where they now have no allies.
Also Read: The highest paid CNN anchors and their salaries
This is also a fierce response to Biden's critics and Republicans who had labelled the President as weak and incapable. The positive impact of this development might be visible in mid term elections in favor of Democrats.