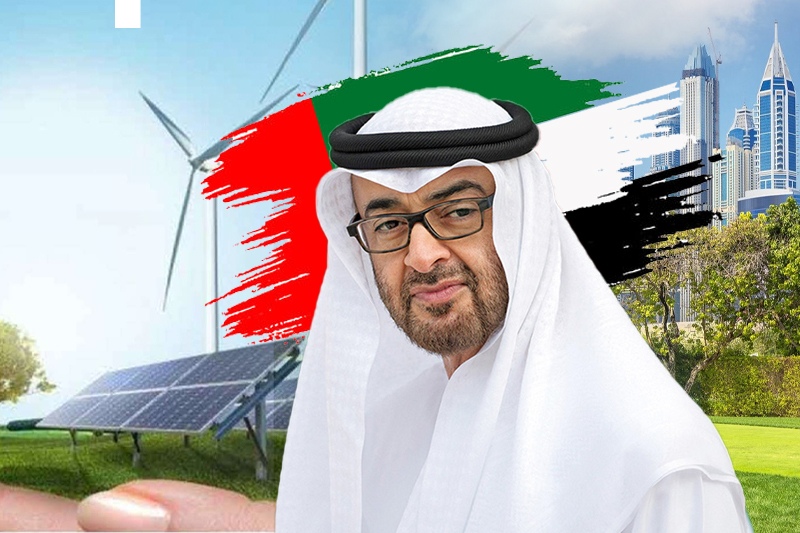 UAE president announces 2023 as "Year of Sustainability"
UAE president announces 2023 as "Year of Sustainability"
"2023 is the Year of Sustainability in the UAE," President His Highness Sheikh Mohamed bin Zayed Al Nahyan posted online on Friday, adding "as host of COP28", the nation "will continue to support action and innovation in the field of sustainability." The announcement underscores the Emirates' significant efforts in sustainability and environmental preservation.
It comes one day after the successful conclusion of Abu Dhabi Sustainability Week 2023, which brought together heads of state, senior policymakers, industry leaders, investors, entrepreneurs, and young people to discuss sustainability initiatives and climate action. According to COP28 President-designate and the UAE's special envoy on climate change Dr. Sultan Al Jaber, the declaration highlights the country's commitment to promoting sustainable practices.
The 'Year of Sustainability' will culminate in COP28, the most crucial multilateral event to be hosted by the UAE from 30 November to 12 December. Sheikh Mohamed has emphasised that the country is determined for the climate event to set a precedent in the collective global efforts to address climate change.
Keep Reading
The Emirates continues to raise its investments in the clean energy sector, both locally and globally. Since the establishment of the Union in the 1970s, the country has had an inspiring journey in protecting the environment. Its intense focus on climate action came under the limelight in 1989 with its signing of the Montreal Protocol on Substances that Deplete the Ozone Layer.
The year 2006 marked a turning point in the UAE's climate action efforts, with the launch of its clean energy powerhouse Masdar, also known as the Abu Dhabi Future Energy Company. Masdar is currently active in over 40 countries on six continents. For more than 15 years, it has been helping dozens of nations achieve their clean energy objectives.
The company has invested over $30 billion in international projects. The overall production capacity of its projects is more than 20 gigawatts (GW), enough to power 5.25 million homes, helping reduce over 30 million tonnes of emissions annually – equivalent to taking 6.5 million cars off the road.
The UAE is the first in the region to ratify the Paris Climate Agreement and declare a climate neutrality strategy initiative, the UAE Net Zero by 2050.