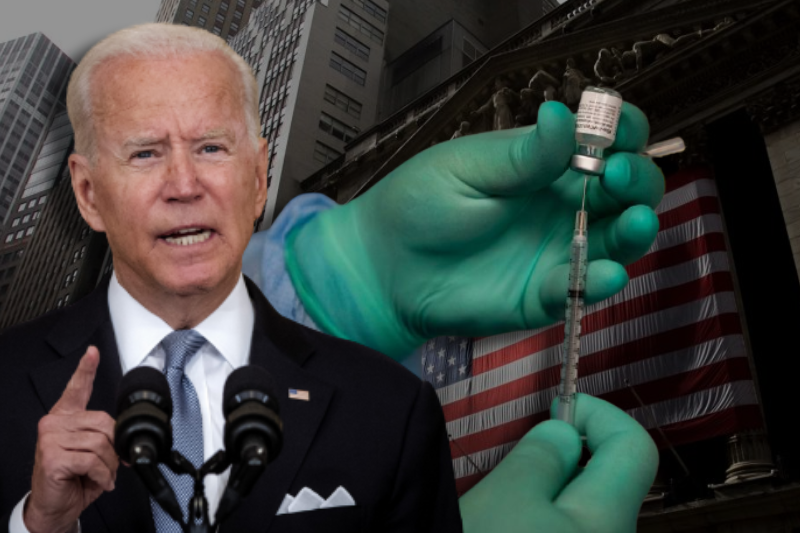 turn the tide of covid 19 biden announces vaccine mandate to cover over 100 million americans
Turn the Tide of Covid-19": Biden announces Vaccine Mandate to Cover Over 100 Million Americans
On Thursday, President Joe Biden announced stringent vaccine mandate on federal workers, large companies and health care staff and professionals in a bid to curb the latest surge in Covid-19 cases. This can be viewed as a desperate attempt to win over lost confidence of Americans that his administration can handle the pandemic – an assurance that made him the winner of Presidential election.
The new Covid-19 vaccine mandate will cover over 100 million Americans, which makes to almost two-thirds of workforce in America. Addressing to the unvaccinated Americans and channeling frustration of a large number of people who have got vaccinated but are struggling with virus surging back, Joe Biden said from White House, "We've been patient, but our patience is wearing thin, and your refusal has cost all of us."
"We can and we will turn the tide of Covid-19," he said firmly. "It'll take a lot of hard work and it's going to take some time. Many of us are frustrated with the nearly 80 million Americans who are still not vaccinated even though the vaccine is safe, effective and free."
Related Posts
President Biden said that vaccinated population in America is getting increasingly "frustrated" with tone-deaf 80 million Americans who are refusing to receive the Covid-19 vaccine despite having enough evidence out in the open regarding safety and efficacy of one vaccine, Pfizer- BioNTech vaccine that has been approved by the US FDA (Food and Drug Administration). "While America is in much better shape than it was seven months ago when I took office, I need to tell you a second fact: We're in a tough stretch and it could last for awhile," Biden said in a hardening tone.
The new plan of mandating vaccinations targets Labor Department to require all businesses, that have 100 or more employees, to ensure all their employees are vaccinated or are tested weekly. In case of failure to do so, companies could face fines in thousands of dollars per employee.
An executive order too has been signed by Biden that requires all federal employees to get vaccinated against the virus, with no leeway of getting regularly tested to opt out from vaccine. Furthermore, 300,000 educators in federal 'Head Start programs' too must be vaccinated and called on governors to ensure the same. 17 million health care workers at facilities receiving funds from Medicare and Medicaid also need to be fully vaccinated.