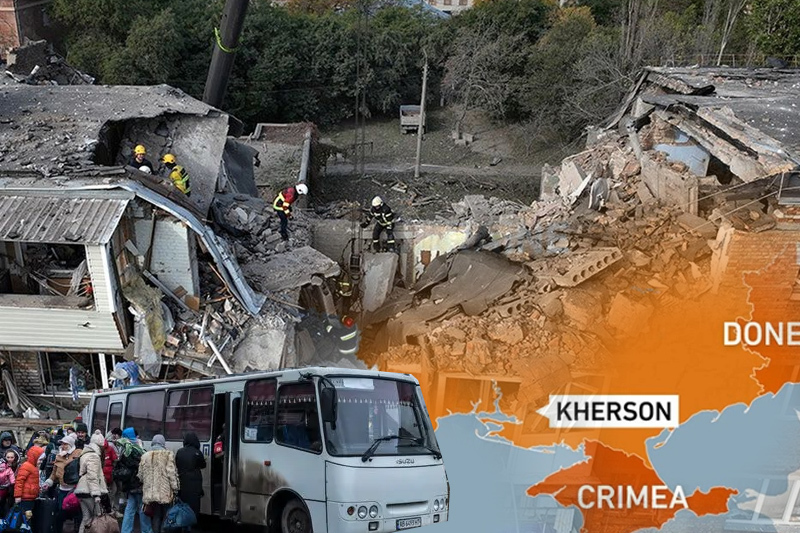 russia to begin civilian evacuation from occupied kherson as ukraine begins offensive
Russia to begin civilian evacuation from occupied Kherson as Ukraine begins offensive
Moscow has announced that it will be evacuating civilians out of Kherson amid fears that the occupied city at the heart of the south Ukraine might become a new frontline as Ukrainian forces step up offensive to retake the occupied territory.
Marat Khusnullin, a Russian deputy prime minister, told state television on Thursday that residents in the territory would be helped by Russian forces to move away from the region which remains only partly occupied by Russian troops after successful Ukrainian counterattacks recently. "The government took the decision to organise assistance for the departure of residents of the [Kherson] region to other regions of the country," Khusnullin said.
Keep Reading
The development took place after a public request on the social media platform Telegram was made by Vladimir Saldo, a former mayor of the port city of Khesron. Saldo was installed by the Russian forces as head of the wider Kherson region in April. Saldo is said to have specifically called on Russian President Vladimir Putin to help the people who wished to flee the continuous fighting, as he claimed that it was Ukrainian attacks that were impacting the lives of locals. Saldo, who was mayor of Kherson city between 2002 and 2012, said, "I want to ask you [the Russian leadership] for help in organising such work. We, residents of the Kherson region, certainly know that Russia does not abandon its own, and Russia always lends a shoulder where it is difficult."
The city of Kherson was one of the first to be occupied by Russian troops following the invasion on 24 February. Ukrainian forces said on Wednesday that they had "successfully retaken five settlements in the north east of the Kherson region as part of the counterattack launched in August".
However, Kirill Stremousov, the deputy head of the Kherson region's military administration, said that "the civilian transports were not an evacuation." Stremousov has been openly critical of the Kremlin and decision makers in Moscow and on the battlefield.