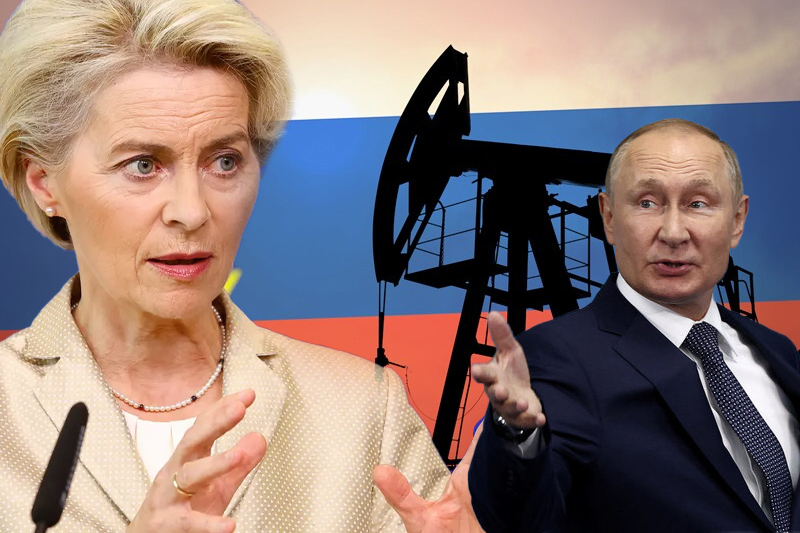 putins recent sham referendum escalation might lead to price cap of russian oil by brussels
Putin's recent "sham referendum" escalation might lead to price cap of Russian oil by Brussels
The European Union executive has assured that there would be price cap imposed on the Russian oil along with additional curbs on hi-tech trade. This all is part of the latest round of sanctions on Russia with intension to "make the Kremlin pay" for continuous escalation of the war against Ukraine.
The president of the European Commission, Ursula von der Leyen, said "Russia had ramped up the invasion to a new level", as she listed the "sham referendums" in Russian-occupied Ukrainain territory, the partial mobilisation order in Russia and Vladimir Putin's constant threat to use nuclear weapons. "We are determined to make the Kremlin pay for this further escalation," she said. She promised that the EU would introduce a price cap on Russian oil to "help reduce Russian revenues and keep the global market stable".
The European Commission also wants to "impose further restrictions on hi-tech goods the EU can sell to Russia such as certain chemicals and aviation components to further weaken the Kremlin's ability to wage war", The Guardian notes.
Keep Reading
Von der Leyen has further warned that anyone who helps Moscow evade sanctions would be added to restrictive sanctions and measures by European Union. "This will have a major deterring effect," she said.
Oleg Ustenko, an economic adviser to Ukraine's president, Volodymyr Zelenskiy, has urged Brussels to bring in a price cap on Russian oil "as soon as possible". He added, "Of course the main goal is to cut off Putin's regime from all possible sources of financing. No doubt that the main source of financing for them right now is everything related to fossil fuels."
The EU proposal of imposing an oil price cap on Russian oil has been widely anticipated, especially since a pledge by the G7 nations earlier this month. Under plans of the price cap, as agreed by the US, Canada, Japan, the UK, France, Germany and Italy, companies shipping and insuring Russian oil will only allowed to operate if they adhere to a price below a price level that is yet to be determined.