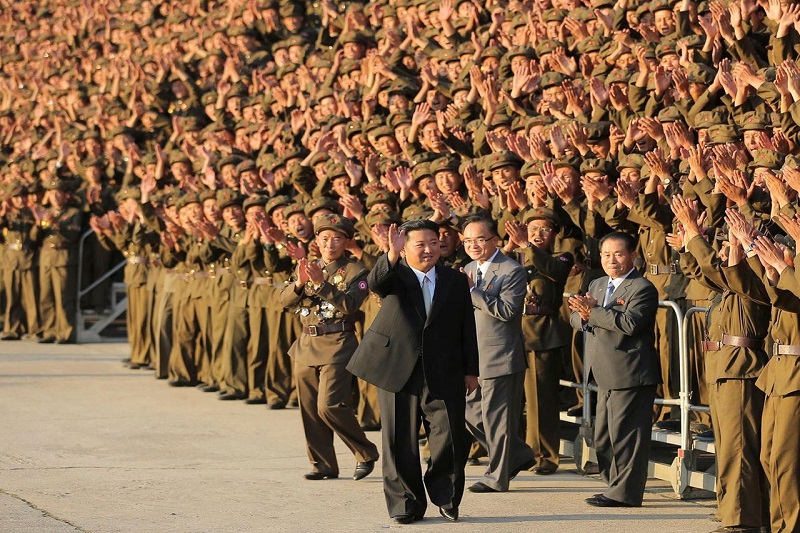 pinning blame on us for chaos in region kim jong un vows to assemble an irrepressible military
Pinning blame on US for chaos in region, Kim Jong-un vows to assemble an irrepressible military
Kim Jong -North Korea's supreme leader Kim Jong-un has taken the opportunity while exhibiting the country's weapons system to signal that his military isn't looking for targeting South Korea. The ultimate target is the United States of America, which Kim said is the sore reason for the chaos in the Korean peninsula. Kim Jong-un also took this rare opportunity to declare his pledge of building an "invincible" military to take on the US's persistent hostility.
"The U.S. has frequently signaled it's not hostile to our state, but there is no action-based evidence to make us believe that they are not hostile," Kim said Monday, as quoted by the official Korean Central News Agency. "The U.S. is continuing to create tensions in the region with its wrong judgments and actions."
The rare exhibition of North Korea's weaponry was to mark the 76th birthday of the ruling Workers' Party on Sunday, according to KCNA. This was also the first such exhibition since 2011 when Kim took the leadership role. An array of newly inducted weapons in the North Korean military were exhibited, including intercontinental ballistic missiles that have already been test-launched or displayed in parades in recent years. Yang Wook, a military expert who teaches at South Korea's Hannam University said, "Basically, North Korea wants to send this message: 'We'll continue to develop new weapons and arm ourselves with nuclear force, so don't slap sanctions with these as we can't agree on the double standards."
Related Posts
During Monday's event called "Defense Development Exhibition Self-Defense-2021" Kim took on the USA for its consistent aggression and called it the source of all conflicts in the peninsula. He stressed that the ultimate objective of his leadership is to build an "invincible military capability" that can't be challenged by anyone. The Biden administration has repeatedly said that it has no enmity or such intents towards North Korea, but Kim refuses to believe so. "There is no basis in their actions for believing that it is not hostile," he said.
Washington is eager to engage in constructive talks with Pyongyang after the last attempt in 2018 ended with sour taste as talks collapsed over the relief of US sanctions on Pyongyang and what the latter would be ready to give in return. Seoul and Washington, on the other hand, are strong security allies. The US has about 28,500 troops stationed in South Koreas to support its guard against the neighbor in the north that invaded in 1950.