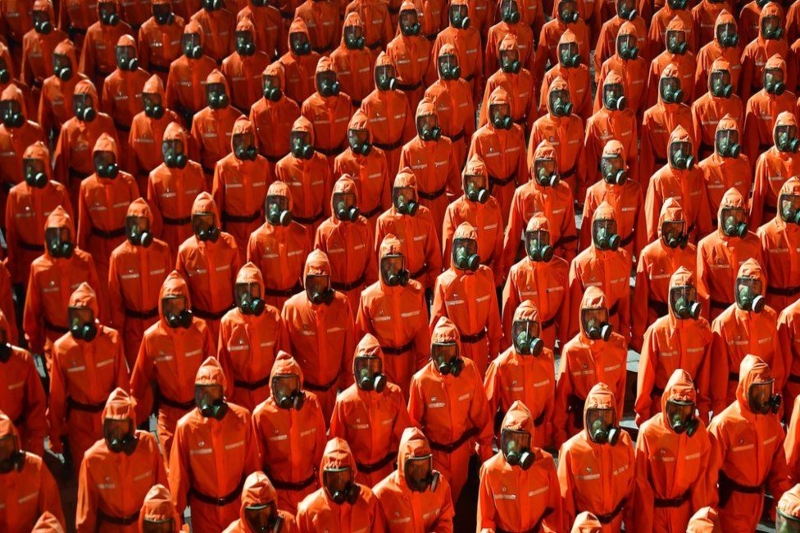 north korea's 73rd anniversary parade showcases soldiers in gas masks and hazmat suits
North Korea's 73rd-Anniversary Parade Showcases Soldiers in Gas Masks and Hazmat Suits
On Thursday, North Korea celebrated its founding year. Nation's 73rd anniversary was conducted at midnight with a military parade in Pyongyang. Marching bands led a parade, including research units, laborers, and an emergency disease prevention unit dressed in orange hazmat-style suits and wearing gas masks.
The Korean Central News Agency said that the fighter planes flew in line over the midnight sky at Kim Il-sung Square in Pyongyang, and few conventional weapons like rocket launchers and anti-tank rockets were also displayed.
North Korean Supreme Leader Kim Jong Un appeared on a platform and waved at the crowd. There were few changes compared to last year's parade; there was no display of ballistic missiles and no speech by Kim, the Roding Sinmunnewspaper reported.
As per Rodong Sinmunnewspaper, 5.7 million Worker-Peasant Red Guards also marched in the parade. First time North Korea staged a parade with the military force, which was introduced as a reserve force following the 1950-53 Korean War.
Related Posts
However, health experts question Pyongyang's claim that there is no covid case in the nation. North Korea has repeatedly stated that there has been no Covid-19 case until now and no signs that it even took place in the past.
In June, Kim dismissed a few senior leaders that failed to manage the coronavirus restrictions, KCNAdetailed. Many higher officials in the ruling Workers' Party of Korea were shuffled, KCNA added.
Many foreign diplomats and aid workers left the nation, referring to food shortages and outrageous limitations on day-to-day living. Yang Moo-jin, a professor at the University of NorthKorean Studies in Seoul, told the Guardian, "The parade is by all accounts rigorously planned as a domestic celebration pointed toward advancing public solidarity and fortitude of the system."