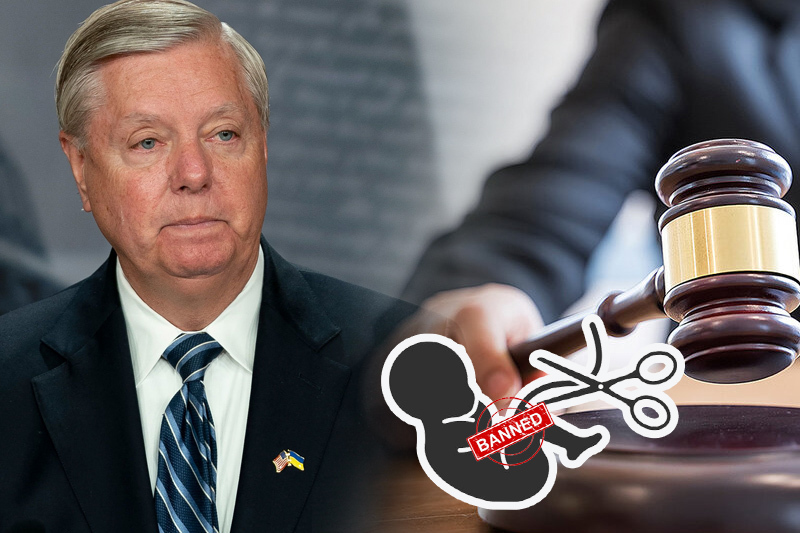 gop's graham unveils nationwide abortion ban after 15 weeks
Lindsey Graham's 'nationwide abortion ban' proposal 'a bad idea'
Republican Senator Lindsey Graham on Tuesday, proposed a legislation for a nationwide 15 week abortion ban, a proposal that has sent shockwaves across Congress with both his fellow Republicans and Democrats thrashing the idea. This bill is nothing more than a politically risky strategy as opposition is steadily growing across the United States over recent Supreme Court ruling of overturning Roe v Wade. Polling has shown that 57 per cent of Americans have disapproved of the supreme court's reversal of the 1973 Roe v Wade ruling that had guaranteed access to abortion. Polls also show that 62 per cent of Americans opine that the procedure must be legal in all or most of the cases.
"Bad idea," said Chris Mottola, a GOP strategist and ad maker. "It rips open a political sore. The political environment was moving back to economic issues. It further nationalizes an issue that works against Republicans generically."
Keep Reading
The proposal by Graham, a hardline Republican Senator from South Carolina, will be called the "Protecting Pain-capable Unborn Children from Late-term Abortions Act". Though the proposal has no chances of being passed into a law, but with just 60 days left for the midterms it can be a strategy to shift the election discussions from economy and foreign policies to abortion. Nevertheless, the idea still is bad for GOP as the abortion rights issue is a blazing agenda largely against the Republicans.
"Today, Senator Graham introduced a national ban on abortion which would strip away women's rights in all 50 states. This bill is wildly out of step with what Americans believe," White House press secretary Karine Jean-Pierre said in a statement. She added, "While President Biden and Vice-President Harris are focused on the historic passage of the Inflation Reduction Act to reduce the cost of prescription drugs, health care, and energy – and to take unprecedented action to address climate change – Republicans in Congress are focused on taking rights away from millions of women."
She further reiterated that Biden administration and Democrats in Congress "are committed to restoring the protections of Roe v Wade."
Even Senate Minority Leader Mitch McConnell, R-Ky., has thrashed the nationwide proposal and clearly distanced himself from the Graham's bill. "Most of the members of my conference prefer that this be dealt with at the state level," McConnell told reporters on Tuesday.