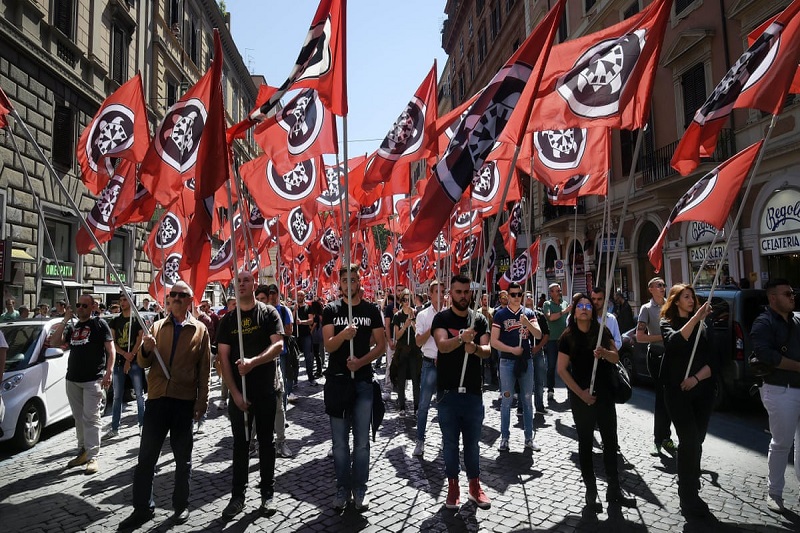 italy neo fascist and squadron violence explodes in rome
Italy: Neo-Fascist and Squadron Violence Explodes in Rome
Italy – Until the other evening, the President of the Italian Republic, Sergio Mattarella, was convinced that he could represent today and tomorrow in Berlin, a stable Italy, with the wind in its sails, the Covid under control and a prime minister who enjoys the esteem of a large part of the world.
That image remains, of course. However, the assault of the fascist mob on the CGIL headquarters arouses concern. Neo-fascist squadrons have put Rome to fire and sword. Violence against vaccines, restrictive measures and masks has exploded in Italy. The capital has seen scenes not seen in Europe for decades.
The demonstrations passed the limit, and democracy is at risk. It is the mood that prevails at the Quirinale. The images of the raid made a powerful impression on the Head of State. Saturday evening Mattarella immediately wanted to call the head of the workers' union, Maurizio Landini, to express the closeness of that Republic "based on anti-fascism," as he has repeated on several public occasions. Then there are revealing details. That police car guarding the door of Palazzo Chigi did not go unnoticed: symbolically signifying the concrete threat to democracy.
This time, the Ministry of the Interior's self-criticism is cruel: underestimating the presence in the streets, inadequate deployment of security forces in the field, and a late answer to the outbreak of the demonstration violent fringes. On public order, Italy needs to change the acceleration of prevention work on social networks, massive development in law enforcement on the street, and above all, new commands of engagement. If it is necessary to use force, security forces will use it without hesitation.
Related Posts
The Interior Ministry collects through gritted teeth, takes advantage of the lesson, and runs for cover. The hot autumn has arrived, and there are two tight deadlines on which no mistakes are allowed: the fire day on Friday 15 October, the debut day of the mandatory Green Pass in the workplace, and the G20 in Rome on 30 and 31 October. On Wednesday, the National Committee for Order and Security will define the new strategy of the iron fist.
This time, condemnation alone is not enough: one cannot stigmatize the gravity of the gesture and then return to current affairs as if nothing had happened. Something more is needed: the assault on the CGIL marks a qualitative leap in the provocative action of neo-fascist groups that must be nipped in the bud before it settles with the latent outbreaks of social protest in the country.
Therefore, Enrico Letta orders him to act quickly to unmask those who, among the political forces, continue to cover these fringes that are dangerous for democracy. However, the center-left parties have defined the blitz as "violence and squadrons," taking care, not to attribute its authorship. "I don't know the matrix," specified the President of the far-right party Fratelli d'Italia (FDI), to which the leader of the democratic party replies with a grudge: "An unfortunate sentence. The matrix more evident than this cannot be and is fascism."