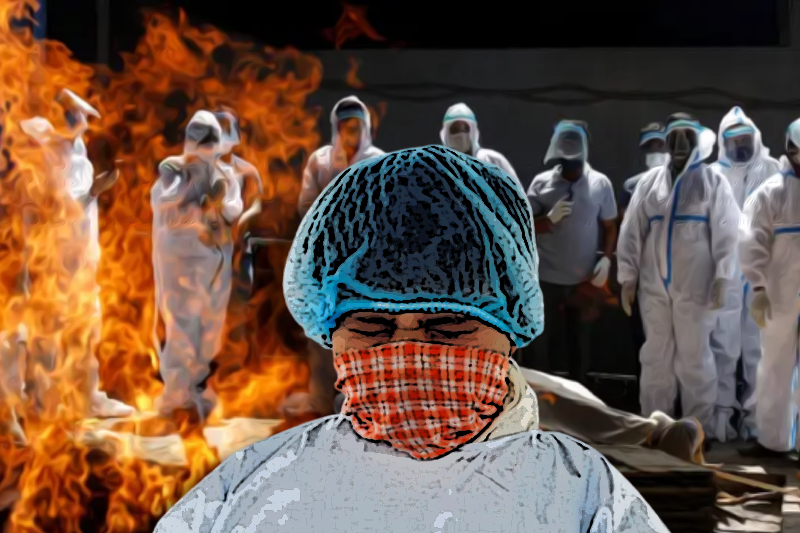 Why India's COVID situation is a global problem
India's COVID19 situation is a global problem: Analysis
India is witnessing horrific second wave of Covid-19 pandemic with harrowing scenes from country shocking the entire world. But the crisis in India is not just a regional problem but a global one. We all should be worried, for virus doesn't respect geographic boundaries or races.
Dr Soumya Swaminathan, the World Health Organization's chief scientist said, "The virus doesn't respect borders, or nationalities, or age, or sex or religion. And what's playing out in India now unfortunately has been played out in other countries."
Ongoing Covid-19 pandemic has bared open various global vulnerabilities and how interconnected the world is. If a nation is going through a high infectious disease state, it is high probability that the disease would soon be spreading to other regions as well, and pretty soon. Even with strictest of travel restrictions during first wave of Covid-19, infections from one country traveled to others through even few travelers that acted as active vector.
But there is another tier to India's problem of current surge. The rapidity with which variants are surfacing with unknown details and behavior around them, the concerns of future impact and efficacy of available vaccines are inevitable. The current variant in India is B.1.617, dubbed as "double mutant" due to two mutations on viral spike protein. Studies around the variant shows it to be slightly more transmissible than original strain and that the antibodies present in body to original strain may not be able to effectively block the new strain. Dr Jeff Barrett, director of the Covid-19 Genomics Initiative at the Wellcome Sanger Institute says, "I don't think there's any evidence that it's an escape mutation [which would mean] it fundamentally can't be stopped by the vaccines."
Related Posts
The basic thing about virus behavior that needs to be understood is condition around its mutation. More the number of active cases in a country, more are the chances of new variants to emerge. This is possible because virus gets more chance to mutate with every single infection. This is a real time problem with exceeding cases of new cases emerging every day across nations.
"The way to limit viral variants emerging in the first place is to prevent the virus replicating in us… so the best way to control variants is actually to control the global amount of disease that we have at the moment," explains Prof Sharon Peacock, Director of the Covid-19 Genomics UK consortium.
It is crucial that apart from wearing masks and practicing social distancing, getting Covid-19 vaccine is equally important. Unfortunately, India despite getting an overwhelming initial response during first phase of its vaccination drive, has less than 10% of population vaccinated with first dose and less than 2% fully vaccinated. This slow vaccination is despite India being home to biggest vaccine manufacturer in world, Serum Institute of India.
Tackling the COVID crisis globally and together is the only solution, and the first step towards that is following all guidelines and getting vaccinated against the virus.