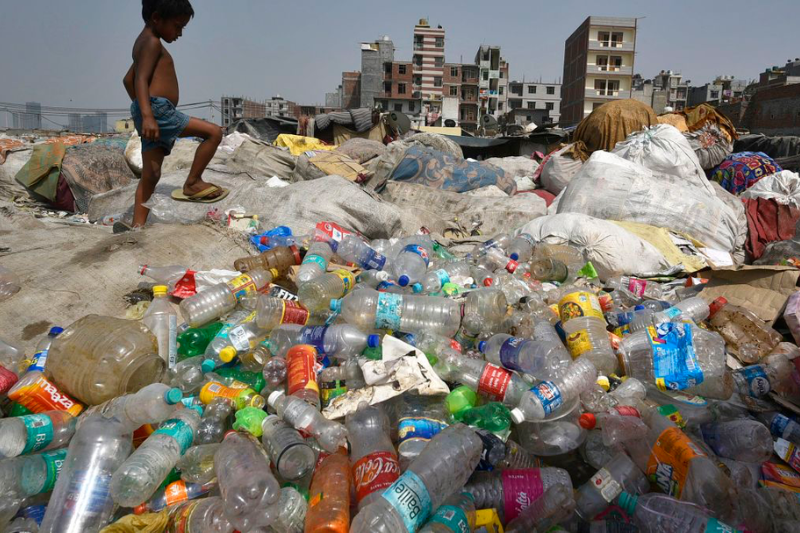 India banned single-use plastic in order to reduce pollution
India banned single-use plastic in order to reduce pollution
The ban on single-use plastics, which includes everything from straws to cigarette packets, went into effect in India on Friday in an effort to fight the rapidly growing pollution problem.
Upon announcing the prohibition, the government brushed aside concerns raised by the food, beverage, and consumer products industries about the potential impact. India, the world's second-largest country by population, has seen an enormous increase in the amount of pollution caused by plastic garbage.
Single-use plastic products like straws and throwaway cutlery have become increasingly popular as a result of economic expansion. Despite using 14 million metric tons of plastic each year, India has no infrastructure in place to deal with the debris, which leads to widespread littering.
Used plastic products litter the streets of cities worldwide, clogging drains, rivers, and oceans and causing death to wildlife in the process. The first stage of the ban prohibits the production, importation, storage, distribution, and sale of 19 plastic objects that the government has determined are not highly useful but have a high potential to become litter.
The government of Prime Minister Narendra Modi announced a ban on single-use plastic items, including straws, cutlery, earbuds, packaging films, balloons, sweets and ice cream, and cigarette packs.
Several beverage companies, including PepsiCo, Coca-Cola, India's Parle Agro, Dabur, and Amul, fought to get straws exempted from the prohibition.
Related Posts
Plastic bags have been exempted by the government for the time being, although makers and exporters have been asked to increase the thickness in order to encourage reuse.
Consumer goods and beverage firms aren't the only ones who've complained about the prohibition. Plastic producers say they weren't given enough time to prepare for the ban.
Some experts believe that enforcing the ban might be difficult. The government has decided to set up control rooms to check any illegal use, sale, and distribution of single-use plastic products.
Approximately 100 million tons of plastic garbage have been poured into the world's oceans, according to the United Nations. Whales and other deep-sea species have been shown to contain substantial levels of microplastic in their digestive tracts.
The restriction does not apply to thousands of other plastic products, including plastic bottles. However, the federal government has set goals for producers to follow regarding recycling or disposal after use.
India has thought about outlawing plastic in the past. However, earlier editions concentrated on particular national regions with varying degrees of success.