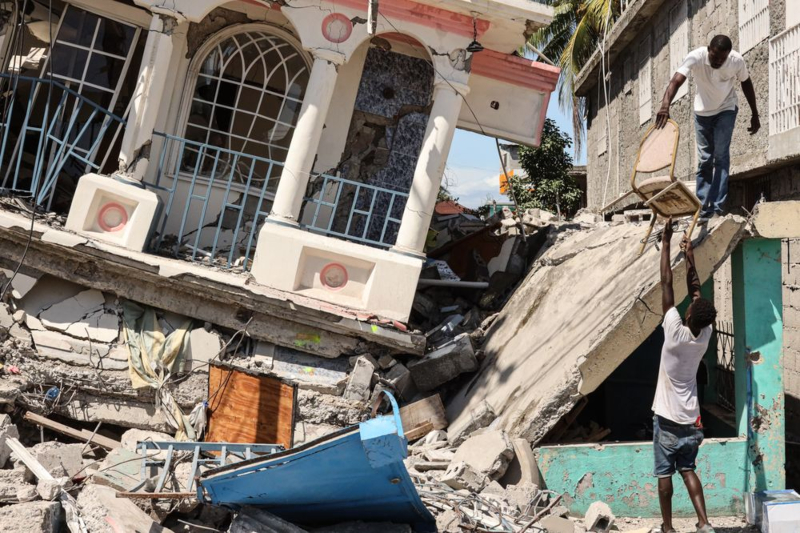 haiti earthquake
Double whammy for Haiti: earthquake followed by tropical depression surges the death count
 Haiti was not even able to awaken from the massive 7.2 magnitude earthquake on Saturday, and now the tropical depression has hit the Caribbean country. Medical teams and search and rescue teams were racing to provide food and shelter to affected Haitians that were hit hard by the Saturday quake.
On Monday the death toll due to earthquake had reached 1,419 with over 6000 injured. Aid workers fear that this count can rise further as search and rescue operations are still underway. But the conditions are likely to worsen further after tropical depression storm Grace makes its landfall in next few hours. The casualties due to quake are far lesser this time as compared to the 7.0 magnitude quake that killed over 200,000 Haitians in 2010. This is because the epicentre this time lies farther from the dense capital.
By Monday midday, the capital Port-au-Prince was already experiencing lashing rains. Flash floods and mudslides are expected to hit the region.
US National Hurricane Center (NHC) has projected that Grace is expected to hit Haiti between Monday night and Tuesday morning. It is indicated that the storm could pass over areas directly affected by the earthquake, bringing up to 38cm (15in) of rain, increasing risk of flash floods and landslides.
Les Cayes is one of the worst impacted towns in Haiti with a population of 100,000, lying 120 miles south west of the capital. Doctors in the town report that hospitals are already saturated with injured patients due to the earthquake. A resident doctor at Les Cayes' Immaculate Conception hospital said, "People are in need. There is no water in the town, no food. They are sleeping outside. Haiti needs the world and its prayers. People are really scared."
Related Posts
"Right now people are traumatised because they don't know what will happen in the coming hours, days or weeks," said Thomas Jean Verlin, a 31-year-old teacher from Les Cayes. "There is a lot of panic. I believe 90% of the population needs psychological assistance." USAid (the United States Agency for International Development) sent its urban search-and-rescue teams to Les Cayes by helicopter, with sniffers dogs to locate trapped vi