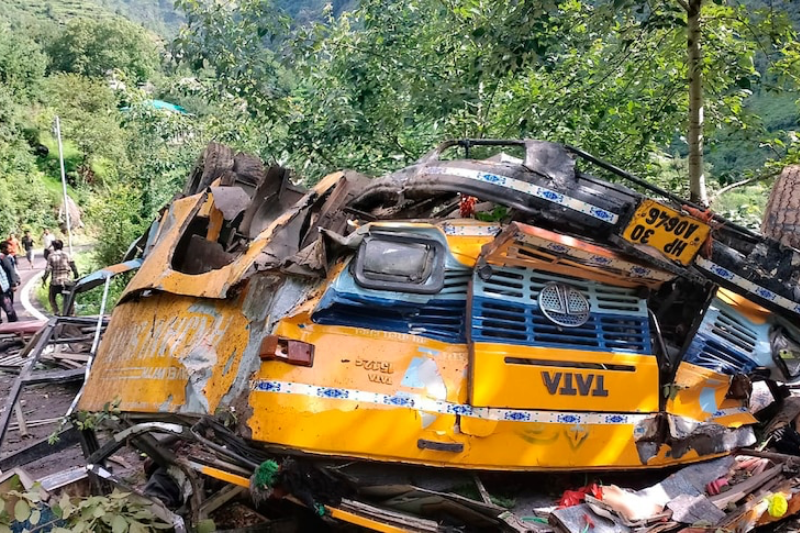 Bus collapses into a deep gorge in India, kills 16
Bus collapses into a deep gorge in India, killing 16
A government source reported that on Monday, a passenger bus veered off a mountain route in northern India and plunged into a deep valley, resulting in the deaths of sixteen people, including schoolchildren.
Ashutosh Garg, a senior administrator for the district of Kullu in the state of Himachal Pradesh, told the news agency Press Trust of India that rescue workers extracted the severely injured from the wreckage of the vehicle and transported them to a hospital. Garg was speaking on behalf of the district of Kullu.
Prashant Sirkek Singh, an additional officer, stated that there were approximately twenty passengers on board the bus.
Photos that were uploaded on social media showed first responders attempting to rescue survivors from the wreckage of the yellow bus that had been damaged.
Related Posts
The precise reasons for the accident could not be determined right away. However, it is thought that the driver of the bus lost control of the vehicle near a hairpin turn, which resulted in the bus rolling down the steep mountainside.
The Prime Minister of India, Narendra Modi, has conveyed his sympathy over the disaster.
Accidents that result in fatalities on Indian roads are frequently caused by drivers who are careless, roads that are not properly maintained, and vehicles that are getting on in years.
Accidents on India's roads are responsible for the deaths of more than 110 thousand people annually, according to the police.