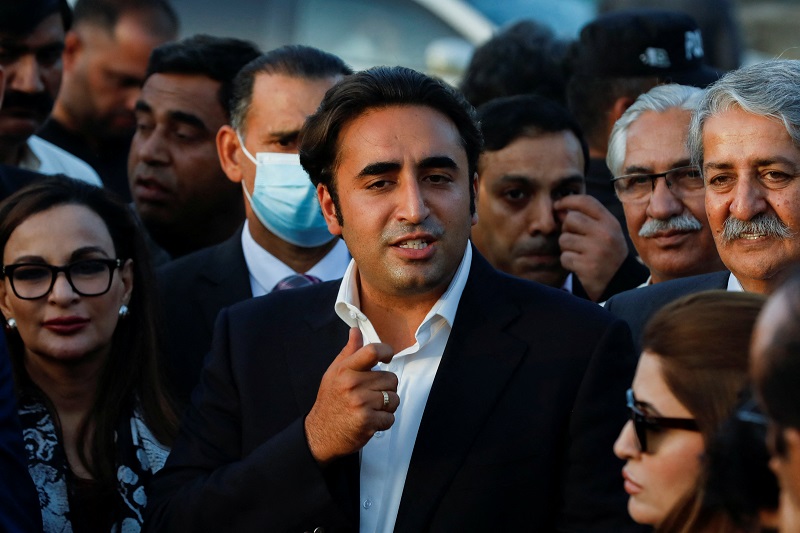 bilawal bhutto zardari, chairman of the pakistan people's party, speaks to the media outside the parliament building, in islamabad
Bilawal Bhutto Zardari: All you need to know about youngest foreign minister of Pakistan
Bilawal Bhutto Zardari, heir of most influential political dynasty of Pakistan, has been appointed as the country's foreign minister. Becoming one of world's youngest foreign minister at 33 years, Bhutto has inherited a bag full of diplomatic issues, including relations with neighbour and arch-rival India.
The appointment on Wednesday comes two weeks after Bhutto played a critical role in the alliance that toppled Prime Minister of Pakistan Imran Khan and brought Shehbaz Sharif as the new leader of country.    
His first engagement as foreign minister comes on Thursday as Bhutto will be accompanying Prime Minister Sharif to Saudi Arabia, a key trade partner of Pakistan that is a major source of relief to Pakistan's dwindling economy.
Honored to be appointed Foreign Minister
Expressing his gratitude on the appointment, Bhutto said he was "honored" in a Twitter post. He further wrote that he along with his Pakistan People's Party (PPP) "will play our part in restoring democracy, passing electoral reforms, fighting for a fairer economy & advocating Pakistan's case on the world stage".
A golden legacy
Bilawal Bhutto Zardari belongs to the undisputed most influential dynasty in Pakistan's political scene. He is the son of former Pakistani President Asif Ali Zardari and Benazir Bhutto, the three time Pakistani Prime Minister and the only female PM of country. His maternal grandfather was former PM Zulfiqar Ali Bhutto. Indeed, big shoes to fit.
Related Posts
But the young Bilawal was handed down the reins of PPP as chairman of the party after his mother, PM Benazir Bhutto was assassinated at a political rally in Rawalpindi in 2007. Bilawal was just 19 years old and since then he has been a part of Pakistan's politics.
Keeping a low profile, Bilawal pursued his higher education at London's Oxford University. On returning to his country in 2010, Bhutto has played an active role as chairman of PPP.
A progressive leader
Bilawal, walking his mother's path, is considered to be a progressive leader and thinker. He has often spoken about rights of women and minorities in Pakistan. A young leader, Bhutto has already made a place amongst country's youth through his social media presence.
Still an "untested" leader, Bilawal might be the change Pakistan needs. What is your opinion on this? Share your thoughts in comments section below.