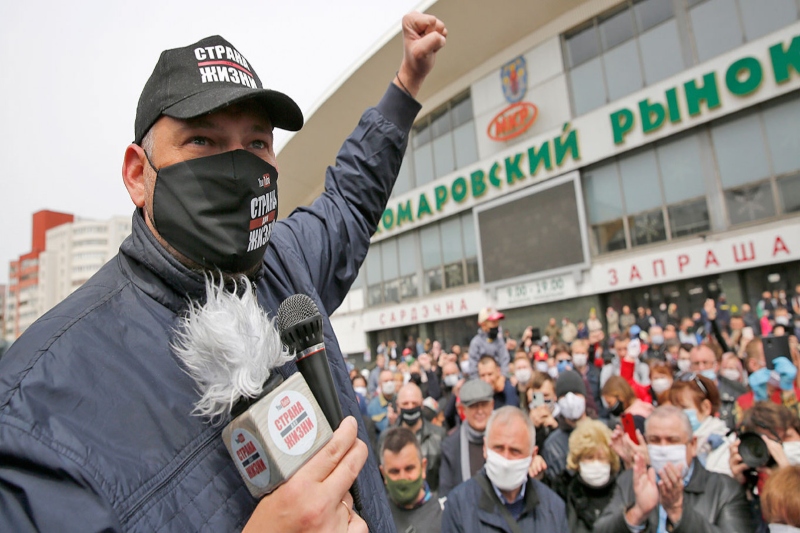 belarus's lukashenko (1)
Belarus's Lukashenko regime sentences opposition leader Tikhanovsky for 18 years jail term
Belarus
Belarus's authoritarian regime led by President Alexander Lukashenko has sentenced Sergei Tikhanovsky for a jail term of 18 years over charges of organizing protests and also riots against Lukashenko's win in presidential election. The trial has been condemned by regime's critics and opposition as a sham.
Tikhanovsky had challenged Lukashenko and was to contest in the 2020 Presidential election to break the country's authoritarian regime that has been in rule for decades now. But before the vote could be held, Tikhanovsky was detained. It was after that his wife and opposition leader Svetlana Tikhanovskaya took on the mantle to stand strong against Lukashenko in election.
The result of polls were widely discredited after Lukashenko claimed victory with over 90 per cent of votes in his account. What ensued next was a wave of civil protests across the nation that challenged Lukashenko's claim to victory and yet another term. Thousands were detained, tortured and even forcefully disappeared. After Tikhanovskaya claimed victory to herself in the August election, she had to leave country along with children into exile, fearing for her life.
After her husband was sentenced to 18 years of jail at a high security penal colony, Ms. Tikhanovskaya challenged the trial as a "personal revenge" by Lukashenko. "While hiding the political prisoners in closed trials, he hopes to continue repressions in silence. But the whole world watches. We won't stop," said Ms Tikhanovskaya tweeted. Ms. Tikhanovskaya, a former teacher and now leader of pro-democracy movement in Belarus, is currently in exile in Lithuania.
Related Posts
Former YouTube blogger and activist Sergei Tikhanovsky was given the sentence in a closed trial conducted behind door, away from public eye. He has been convicted on charges including "organizing mass riots" and inciting social hostility, which according to critics are politically motivated. In the same trial, five other supporters of Tikhanovsky have been sentenced to jail term of 14 to 16 years.
Veteran opposition politician Mikola Statkevich was sentenced to 14 years in prison. Opposition bloggers Igor Losik and Vladimir Tsyganovich have been jailed for 15 years. Artyom Sakov and Dmitry Popov, associates of Tikhanovsky, were sentenced to 16 years.
The announcement of sentencing of Tikhanovsky has called for global criticism. German Foreign Minister Annalena Baerbock called the Tuesday's trials and sentencing "scandalous verdicts". US Secretary of State Antony Blinken and the European Union too have condemned the trial as an act of repression of individuals by Belarus and failure of democracy.