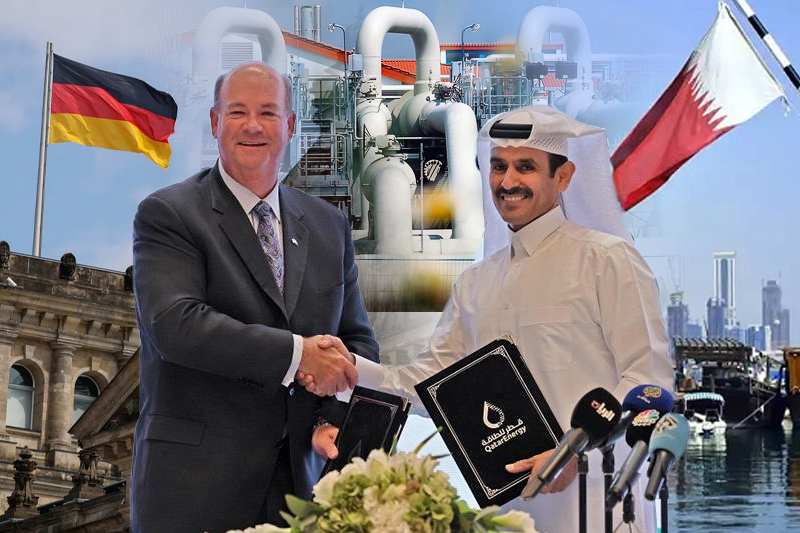 15 year liquified natural gas deal between germany and qatar from 2026
15 year liquified natural gas deal between Germany and Qatar from 2026
In a historic move, Germany and Qatar have agreed over their first ever liquified natural gas deal, reiterating the keenness of Germany to shed off its dependency on Russia for energy sooner than later. Under the news deal, Qatar will begin supplying the gas to the European country from 2026 and for a period of 15 years. Officials have not yet given any dollar value for the deal.
Under the agreement, Qatar would supply up to 2 million tons of the gas to Germany through a currently under construction terminal at Brunsbuettel. The deal involves both Qatar Energy, the Gulf nation's state-run firm, and ConocoPhillips, which has stakes in Qatar's offshore natural gas field located in the Persian Gulf, which it shares with Iran. The gas will be sold by Qatar to the US company ConocoPhillips, which will then deliver it to the LNG terminal in Brunsbüttel, Qatar's energy minister said in Doha. "We are committed to contribute to the energy security of Germany and Europe at large," Qatar's Energy Minister Saad Sherida al-Kaabi told a press conference after the signing ceremony with ConocoPhillips chief executive Ryan Lance.
Keep Reading
"Overall we will ensure that we have a lot of different countries which ensure our energy supply," Germany Chancellor Olaf Scholz said welcoming the deal. "As such, I'm confident that this is a further important building block for a house that we've already largely built."
Since the Russian invasion in Ukraine, the European countries have completely supported Kyiv and condemned Moscow by imposing sanctions. Moscow has since retaliated by slashing the supplies of natural gas to these countries which is used to heat homes, generate electricity and power industry, thereby creating an acute energy crisis which is further triggering inflation. Germany, which depends hugely on Russia for its gas requirements with over half its supply from Russia before the war, has not received any gas since the end of August.
Becoming independent from dependency on Russian gas supply, Germany is moving actively to build five liquefied natural gas terminals with the first terminal expected to go into operations shortly.