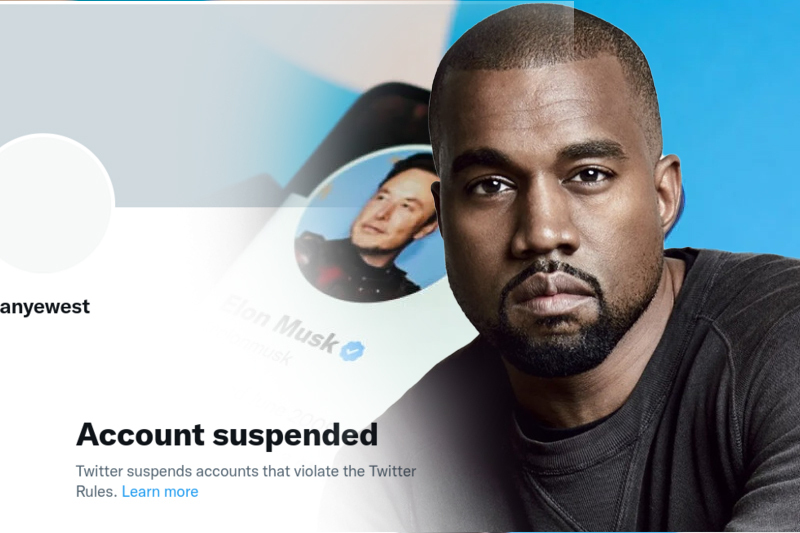 ye suspended from twitter by musk for posting swastika inside star of david
Ye suspended from Twitter by Musk for posting Swastika inside Star of David
Ye, rapper formerly known by the name Kanye West, is yet again in limelight not for his music but for controversial actions. Ye's account has been suspended from Twitter after he tweeted a picture of swastika, the hologram of Hitler, inside Star of David. Kanye West, who once was known 'only' for his music has not left engaging in controversial tweets and acts, even after he made a comeback on the platform just two weeks back.
The suspension by Twitter owner Elon Musk took place after Ye praised Adolf Hitler and the Nazis in an interview on Infowars, a show that hosted by the rightwing conspiracy theorist Alex Jones.
West had returned to Twitter along with many earlier suspended accounts in a "general amnesty" move by new Twitter owner and Tesla CEO, Elon Musk. But the new stunt by Ye has not impressed Musk. Musk tweeted: "I tried my best. Despite that, he again violated our rule against incitement to violence. Account will be suspended."
I tried my best. Despite that, he again violated our rule against incitement to violence. Account will be suspended.

— Elon Musk (@elonmusk) December 2, 2022
The tweet by Ye in which he had posted the image of swastika over the Star of David, a symbol of Judaism, was swiftly deleted. Also, Parler has banned Ye from the social media platform "in the interest of both the parties".
Keep Reading
In an attempt to defend his tweet, Ye wrote "Let's always remember this as my final tweet," as he posted an unflattering image of Musk half-naked on a yacht. "That is fine," Musk replied. "This is not," he wrote on the deleted swastika tweet.
Norm Coleman and Matt Brooks, leaders of the Republican Jewish Coalition, condemned Ye's comments, "Given his praise of Hitler, it can't be overstated that Kanye West is a vile, repellent bigot who has targeted the Jewish community with threats and Nazi-style defamation. Conservatives who have mistakenly indulged Kanye West must make it clear that he is a pariah. Enough is enough."
US President Joe Biden too has condemned Kanye on Twitter and also called out political leaders who tolerate the nuisance and choose to remain silent on antisemitism. "I just want to make a few things clear: the Holocaust happened. Hitler was a demonic figure. And instead of giving it a platform, our political leaders should be calling out and rejecting antisemitism wherever it hides. Silence is complicity," Biden tweeted.
I just want to make a few things clear:

The Holocaust happened.

Hitler was a demonic figure.

And instead of giving it a platform, our political leaders should be calling out and rejecting antisemitism wherever it hides.

Silence is complicity.

— President Biden (@POTUS) December 2, 2022