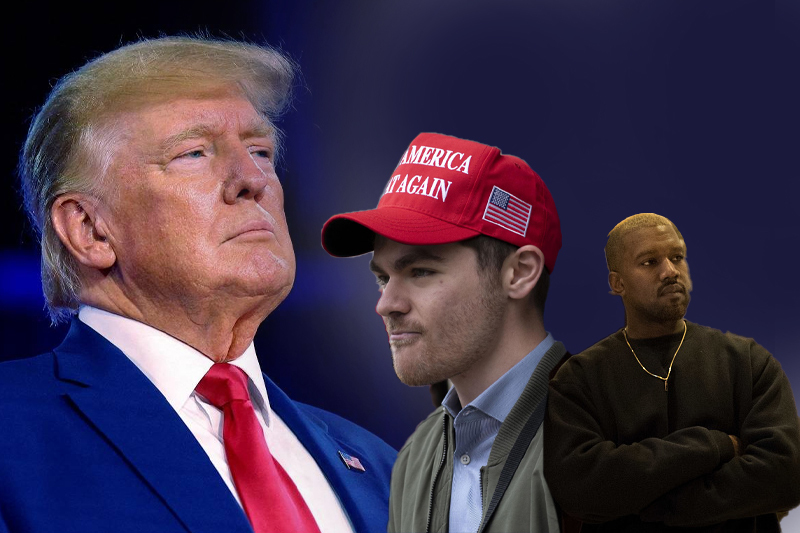 trumps dinner with holocaust denier white supremacist attracts criticism from republicans
Trump's dinner with Holocaust denier, White supremacist attracts criticism from Republicans
Former US President Donald Trump doesn't seem to leave the side of controversies or the controversies are fond of him. But the latest event has seemingly left him alone and cornered as this time even some of the Republicans on Capitol Hill are unwilling to defend him. The former president had dined with the notorious white supremacist Nick Fuentes and the rapper Ye, the new name of Kanye West, who has engaged in antisemitic remarks, the act that has landed him in a spot with growing criticism from Republican senators, including some of his allies who have rarely criticized him.
"Ridiculous. That's all I have to say about that," said Sen. Joni Ernst of Iowa, a member of Senate Republican leadership. "I have no idea what's going on. But again, it is really ridiculous that he would do that."
"I think he should certainly know who he's dining with, and I find it, uh — I want to make sure I use the right word … I totally think it's ridiculous to be sitting down with somebody who espouses such views," said Sen. Shelley Moore Capito, R-W.Va.
Keep Reading
The most unequivocal criticism over Trump's meeting with Fuentes came from his former Vice President Mike Pence. Pence has often admiringly stood by even as Trump smashed all norms in office, but that was until he broke with the former president's scheme to steal the 2020 election in Congress and influenced Capitol Hill riots. "President Trump was wrong to give a White nationalist, an antisemite and Holocaust denier a seat at the table, and I think he should apologize for it," Pence told NewsNation in a clip that was released on Monday. "He should denounce those individuals and their hateful rhetoric without qualification," Pence said, as he slammed Trump's "profoundly poor judgment in giving those individuals a seat at the table."
"No, the meeting was bad. He shouldn't have done it," Sen. Lindsey Graham, R-S.C., Trump's golfing partner, said. "But again, you know, there's a double standard about this kind of stuff. And I don't think it'll matter in terms of his political future, but I do believe we need to watch who we meet with. We shouldn't give oxygen to people who think this way."
The fact that the meeting with Ye and Fuentes has landed Trump on opposing sides with his once close allies and majority of fellow Republicans, there most definitely could be an impact on his 2024 presidential election nomination.