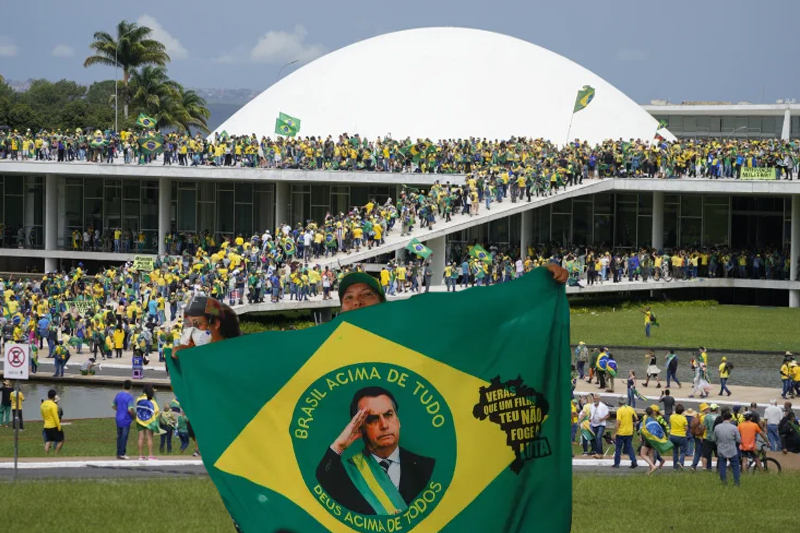 Brazil Congress Storming: Is it an attack on democracy?
Brazil Congress Storming: Is it an attack on democracy?
At least 3,000 supporters of Brazil's former President Jair Bolsonaro broke through police barricades and stormed into the country's Congress, the Supreme Court, and the presidential palace on Sunday. The shocking incident recalled the January 6, 2021, invasion of the US Capitol building by supporters of a Bolsonaro ally, Donald Trump.
Brazil's new President Luiz Inácio Lula da Silva has condemned the incident as a "fascist" attack and also accused Bolsonaro of encouraging the protesters' actions via social media. The former president has also condemned the attack but has rejected the accusations against him by his successor.
President Joe Biden called the situation in Brazil "outrageous", with some US lawmakers calling for Bolsonaro to be extradited from the US. Lula, who was sworn in as the President of Brazil on January 1, defeated Bolsonaro by the narrowest margin in decades. Bolsonaro flew out of Brazil on the eve of Lula's inauguration and is currently in Florida.
Keep Reading
How did we get here?
Contrary to his rival's hardline stance, Lula presented a liberal vision for Brazil, such as a priority on inequality and hunger, and an expansion of the housing scheme. One of his first actions as the President of Brazil was reversing some of Bolsonaro's decisions. Though he emerged victorious, the leftist leader also faces the pressing issue of denial of election results by a section of Bolsonaro's supporters.
While Lula has served two presidential terms, his path from prisoner to president is too much for some Brazilians. He spent 580 days in jail after being convicted of corruption in 2017. His conviction was later annulled.
Seeing Lula take office and move into the presidential palace made some Bolsonaro supporters – who routinely label him "a communist threat to Brazil" – snap.
Bolsonaro's divisive rhetoric and his questioning of Brazil's electoral system's validity inflamed the already tense situation.