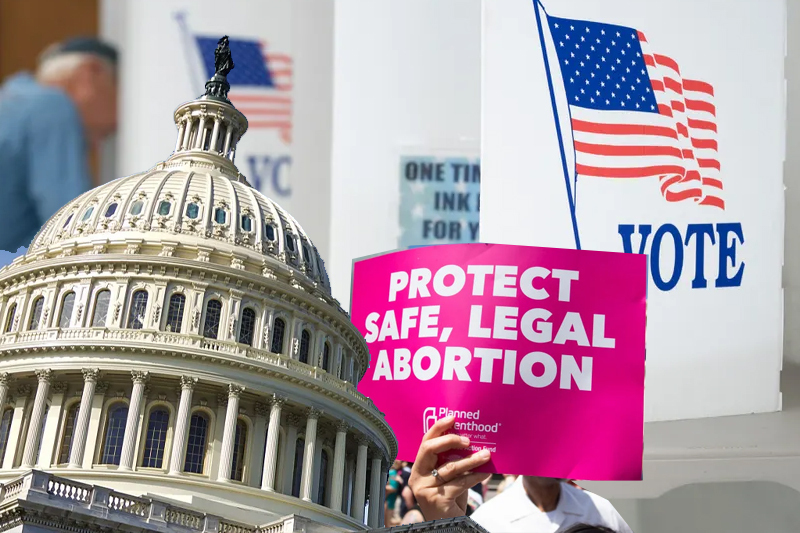 us midterm elections 2022 americans vote to protect abortion rights in these states
US Midterm Elections 2022: Americans vote to protect Abortion Rights in these states
Last updated on November 12th, 2022 at 12:45 pm
Abortion rights was the most crucial agenda on ballot as American voters came out in huge numbers to vote today for the US midterm elections 2022. And the voters in battleground Michigan have chosen to protect the abortion rights in the constitution of the state while they join states of California and Vermont, the two states that were reliably going to go in for protecting the rights by bringing in the blue colour.
The Tuesday ballot comes months after the US supreme court overturned Roe V Wade and snatched the women of their constitutional rights to choose for abortion.
Michigan
Supporters of the movement to protect abortion rights in Michigan have on record collected more signatures than any other ballot initiative in the history of state. It puts an end to a 1931 ban on abortion that was blocked in court but could have been revived, while also affirming that women now have the right to make pregnancy related decisions, about abortion and also other reproductive services like birth control without any interference.
Keep Reading
According to the AP VoteCast, nationally, about two thirds of American voters say abortion must be made legal in most or all cases. The AP VoteCast is an expansive survey of more than 90,000 voters across the country. Only about 1 in 10 have the opinion that abortion should be illegal in all cases. About 6 in 10 voters also say the Supreme Court's decision of overturning Roe V Wade and making abortion illegal had made them dissatisfied or angry, compared with fewer voters who said they were satisfied or happy. The passage of ballot Proposal 3 amends the Michigan constitution to establish an "individual right to reproductive freedom, including right to make and carry out all decisions about pregnancy."
"We are energized and motivated now more than ever to restore the protections that were lost under Roe," Darci McConnell, a spokesperson for Reproductive Freedom for All, a group backing the effort, said in a statement after the ruling.
California
California already had passed several measures for easing access to abortion. The Democrat state had also set aside millions of taxpayer dollars to help pay for some "out-of-state abortion travel". On Tuesday, voters have approved and guaranteed access to abortion and contraception in the state constitution.
Vermont
The question of reproductive rights rose in Vermont after Legislature passed a law in 2019 guaranteeing reproductive rights, including getting pregnant and having access to birth control. Supporters with the Reproductive Liberty Ballot Committee have said that Supreme Court's decision of overturning of Roe V Wade meant "state-level protections are vital to safeguarding access to reproductive health care." The Vermont Constitution will now be amended to read: "That an individual's right to personal reproductive autonomy is central to the liberty and dignity to determine one's own life course and shall not be denied or infringed unless justified by a compelling State interest achieved by the least restrictive means."
Right now, Kentucky and Montana are too close to call on the measures regarding abortion rights on the ballot.