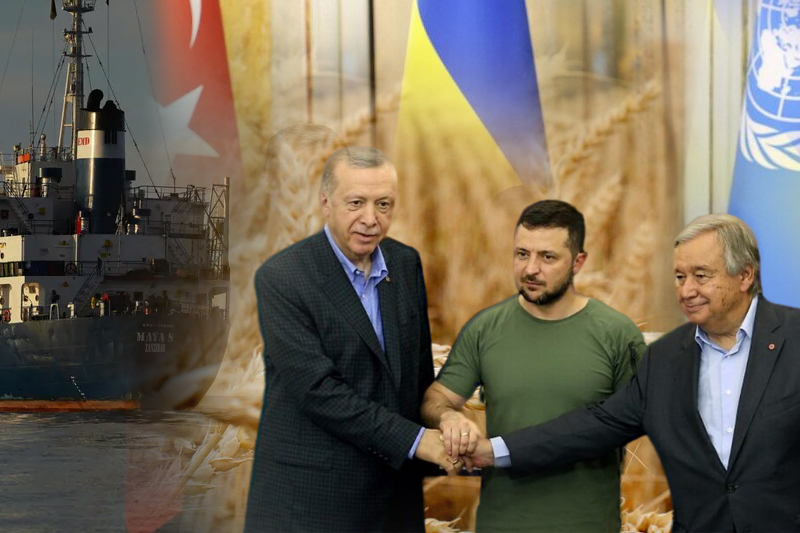 UN chief lauds Black Sea grain deal as "victory for diplomacy"
UN chief lauds Black Sea grain deal as "victory for diplomacy"
United Nations Secretary General Antonio Guterres said while speaking at a press conference in Lviv, alongside President Volodymyr Zelensky of Ukraine and Recep Tayyip Erdogan of Turkey, that he is greatful to get opportunity to visit Ukraine "again during such a difficult period" Lauding the Black Sea Grain Initiative that was signed a few weeks ago, Guterres said that it is a "victory for diplomacy", but reiterated that "there is no solution to the global food crisis without ensuring full global access to Ukraine's food products and Russian food and fertilizers".
Related Posts
"As we speak, more than 560,000 metric tons of grain and other food produced by Ukrainian farmers is making its way to markets around the world," he said, noting the mention of the first UN-chartered vessel that is transporting Ukrainian wheat to Horn of Africa, where people are suffering one of the worst droughts in decades.
Speaking after trilateral meeting with @zelenskyyUA and @RTErdogan, @antonioguterres calls for demilitarization of the #Zaporizhzhia plant & announces intention to name @GenSantosCruz to head Fact Finding mission on Olenivka detention center.
Read 👇👇👇 https://t.co/UtZVVMLFck pic.twitter.com/cjvdoCQkNe

— UN Spokesperson (@UN_Spokesperson) August 18, 2022
There have been signs that global food markets have begun stabilizing with wheat prices dropping by at least 8 per cent, as well as FAO Food Price Index declining by 9 per cent in July, most decline since 2008. "Let's have no illusions – there is a long way to go before this will be translated into the daily life of people at their local bakery and in their markets," noted the UN chief, reminding that "supply chains are still disrupted [and] energy and transportation costs remain unacceptably high".
The UN chief has also highlighted the urgent need to reverse the chaos in the global fertilizer market, that is posing a big threat to next season's crops.
"The heart of the problem that brings us here remains the war," reminded the Secretary-General about the reason for global food crisis, reiterating that Russia's invasion in Ukraine is "a violation of the territorial integrity of Ukraine and of the UN Charter".