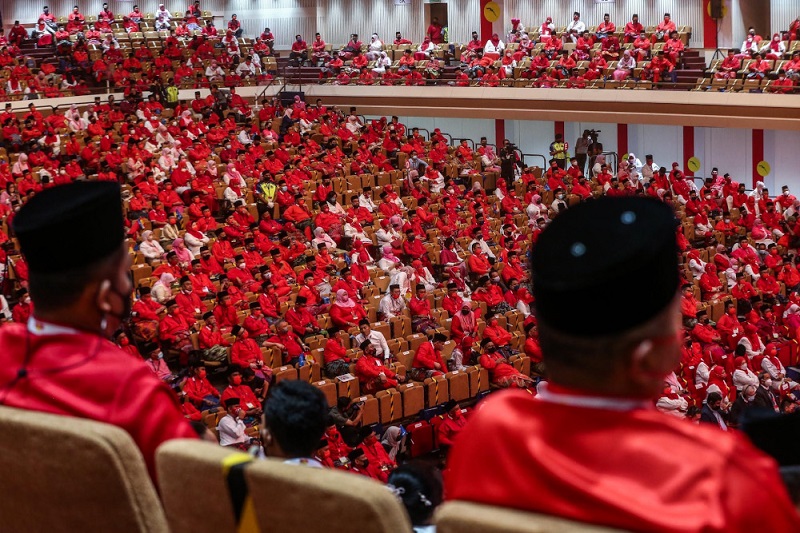 umno general assembly meeting makes bold statement after two years
UMNO General Assembly Meeting Makes Bold Statement After Two Years
United Malays National Organisation (UMNO) organized their general assembly for the first time in two years. Last year's assembly saw a hybrid format of the meeting. 
According to an official statement, Malaysia Prime Minister Ismail Sabri Yaakob has confirmed that the 70-year-old party, UMNO will not "wait even one second" to dissolve parliament once it is confident of winning the next general election. The party has been grappling with political instability for the longest time.
Speaking at the close of the four-day UMNO General Assembly, Mr. Ismail Sabri said he would discuss the matter with the party's top leaders – including president Ahmad Zahid Hamidi, deputy president Mohamad Hasan and his fellow vice-presidents.
The year previous to it, there was no such meeting because of the Covid-19 pandemic. The UMNO party is the oldest in Malaysia. The assembly saw a massive participation of about 5571 delegates and was an important event for the party. The physical meeting has helped determine its direction in facing the challenges of political instability, as well as preparations for the 15th General Election (GE15).
Related Posts
The meeting started with hoisting of the party flag, Sang Saka Bangsa that was scheduled to happen around 8 am at Plaza Merdeka of the World Trade Centre Kuala Lumpur (WTC KL). This was followed by an inspection of the guard-of-honor by UMNO president Datuk Seri Dr. Ahmad Zahid Hamidi.
It will be a four-day assembly that will maintain strict social protocols and adhere all Covid-19 precautions. The party's three wings – Wanita, Youth and Puteri – were simultaneously opened, followed by their assemblies on Thursday, which saw strict monitoring by the Ministry of Health (MoH) through the State Health Department.
Overall, the delegates from the three wings emphasized the preparation of the party machinery in facing GE15, following the success of Barisan Nasional and Umno in winning two state elections, in Melaka and Johor, recently. This year's edition has been more lively compared with last year, complete with exhibition booths by government agencies, as well as food trucks selling food and beverages.