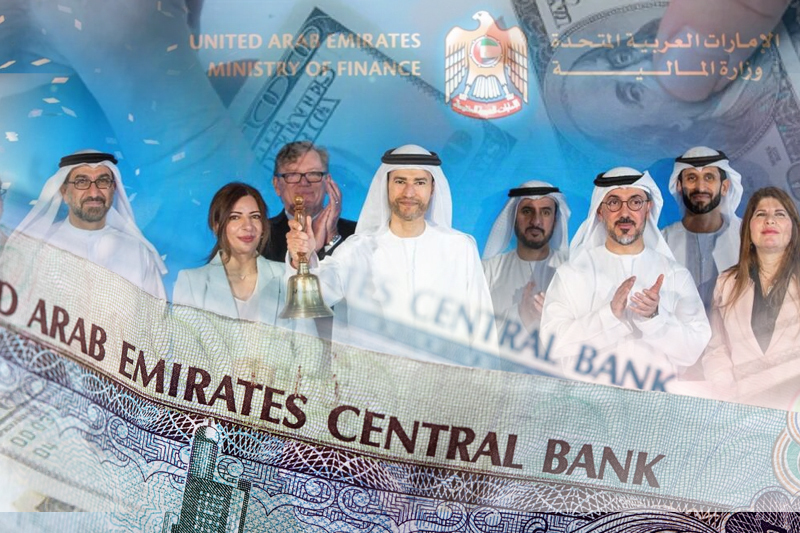 UAE unprecedented treasury purchase a huge boost to economy
UAE unprecedented treasury purchase a huge boost to economy
Leading oil exporting country of the Middle East, United Arab Emirates has boasted of a hugely unprecedented oil revenue this year alone. The government of the United Arab Emirates, represented by the Ministry of Finance, has successfully concluded its offering of a U.S. dollar-denominated dual-tranche sovereign bond package, which is comprised of medium and long-term tranches: a 10-year tranche and a 30-year Formosa tranche – reaching a total value of USD 3 billion, which saw orders over USD 15 billion, doubling from initial target of USD 1.5 billion.
According to the Ministry of Finance (MoF), a total of AED 1.5 billion was issued in the third auction in two tranches of two and three-year notes, valued at AED 750 million each. The third auction of the dirham-denominated UAE treasury bonds was oversubscribed more than 5 times (5.1 times), attracting bids worth AED 7.6 billion. The auction is part of the UAE's AED 9 billion T-bonds issuance programme for the year 2022. "The success is reflected in the attractive market driven prices, which was achieved by a spread of a 16 basis points (bps) over US Treasuries for two years, and a spread of 15 bps over US Treasuries for 3 years," the ministry added regarding the UAE treasury purchases.
Related Posts
The T-Bonds programme will play a major role in contributing towards building of the UAE dirham denominated yield curve, offering safe investment opportunities to investors, bolstering the local debt capital market, developing the local environment for investment, along with providing a sustainable economic growth. This all will be instrumental in offering a stable platform for UAE investment opportunities. 
His Excellency Mohamed bin Hadi Al Hussaini, Minister of State for Financial Affairs pointed out that the successful UAE treasury purchases and subscription of the second sovereign bonds (UAE treasury bonds) is a testament to the confidence of investors in UAE investment, in the strong credit and stability of the UAE economy. H.E. Al Hussaini said, "The initial target was a benchmark size of USD 1.5 billion, with global book orders peaking at c. USD 15 billion on an intraday transaction, representing a c. 5x oversubscription; the issuance was upsized to USD 3 billion. Pricing was tightened by 25bps from the initial pricing guidance on both tranches, with final pricing at UST plus 100 bps for the 10-year tenor and UST plus 175 bps for 30-year tenor." 
H.E Al Hussaini added, "The sovereign bonds contribute to increasing the competitiveness of the UAE across various fields and support the country's financial and economic policies aimed at achieving inclusive and sustainable development. This is by diversifying sources of income, attracting foreign investments, and building a multi-opportunity investment environment. The Ministry of Finance will continue bolstering the UAE's financial system and offering innovative financial tools that advance national economic development."