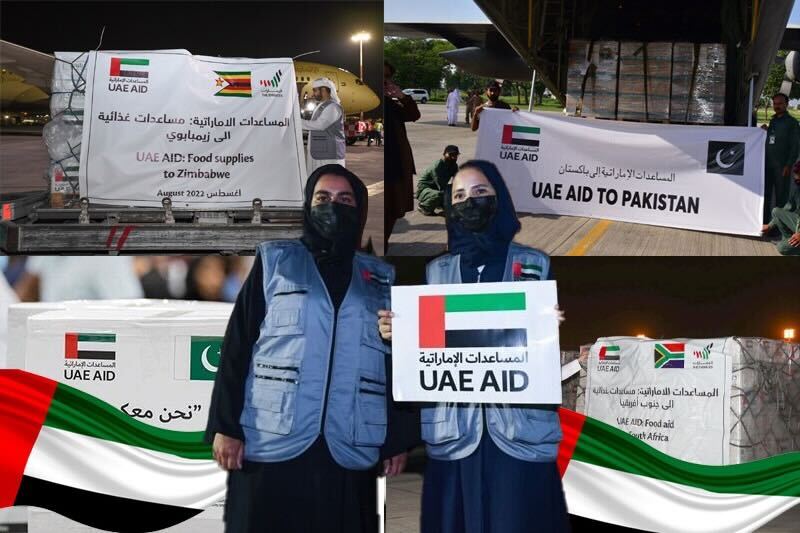 uae the beacon of humanitarian aid and empathy to nations during crises
UAE: The beacon of humanitarian aid and empathy to nations during crises
This year has witnessed various crises globally, testing people and the global sense of empathy and humanity. Crises of varying proportions and extent have wreaked havoc across countries, demanding all nations come together to fight the common fight. The year has witnessed ongoing Covid-19 pandemic, droughts, floods, to name a few. At this hour of predicament, while many countries came forward to extend support and aid to nations and people in need, United Arab Emirates has tread as a leader.
The UAE, following the visionary path and teachings of its founding fathers and leadership has been the beacon of humanitarian aid and empathy to all nations in need, irrespective of the geography, religion or diplomatic relations. UAE's President His Highness Sheikh Mohammed bin Zayed al Nahyan has led the country and projected its true values of giving importance to human values, equality and empathy. The UAE has extended medical aid, food supplies, and all other essential requirements to countries across the globe during the times of crises, and still continues to do so.
Pakistan
Devastating floods hit Pakistan as a result of unprecedented heavy rainfall rendering over one-third of country submerged under water. At this time of crisis, UAE led the humanitarian and relief aid to Pakistan via aid flights. Under the directives of President His Highness Sheikh Mohamed bin Zayed Al Nahyan, urgent relief and humanitarian aid to Pakistan was provided by dispatching an air bridge comprising 62 planes. Field teams were sent to the affected areas through Emirati charity and humanitarian foundations, most notably the Emirates Red Crescent, the Khalifa bin Zayed Al Nahyan Foundation, the Mohammed bin Rashid Al Maktoum Humanitarian and Charity Establishment, and Sharjah Charity International. Over 3000 tonnes of critical aid was sent to the crisis hit country. MBZ had also ordered for $13 million of urgent aid to Pakistan.
Furthermore, "We Stand Together" initiative was launched by Emirates Red Crescent (ERC), Dubai Cares and Sharjah Charity International with the Ministry of Community Development (MoCD) and Ministry of Foreign Affairs and International Cooperation (MoFAIC) in the UAE. UAE residents gathered at three locations across the country – Abu Dhabi National Exhibition Center (ADNEC), Expo City Dubai and Expo Center Sharjah – to pack the relief kits to be urgently delivered to Pakistan.
Chad
An aid plane was sent to Chad by UAE carrying 30.6 tonnes of food towards the floods that had impacted 442,000 people across the country. The total value of UAE aid to the Republic of Chad from period of 2017 to 2021 amounts to AED100 million (US$27 million) across all fields.
Ukraine
President His Highness Sheikh Mohamed bin Zayed Al Nahyan ordered the additional humanitarian relief aid worth US$100 million to Ukrainian civilians who had been affected by the Ukraine crisis. UAE had also provided similar relief aid in beginning months of crisis in Ukraine. The country had also sent planes carrying aid to Ukrainian refugees in Poland and Moldova.
Somalia
UAE's International Humanitarian City (IHC) had dispatched aid to Somalia's Mogadishu in response to deadly car bombing that killed over 120 people. The aid included 38 metric tonnes of trauma kits and surgical equipment, valued at approximately US$130,000 and was airlifted to Mogadishu.
Somalia's drought that impacted over 2.5 million people too received aid from UAE via a ship that carried over 1000 tonnes of food and relief aid.
Related Posts
Nigeria
When floods hit the African country of Nigeria, UAE sent an aid plane carrying 31 tonnes of supplies including basic essentials and food that helped more than 1.3 million people.
Mauritania
Floods led by torrential rains in Mauritania impacted thousands of families. UAE sent aid plane carrying 49 tonnes of food and medical supplies, along with three medical aid planes to support the country's efforts against the coronavirus pandemic.
Sudan
UAE has sent continuous aid to unprecedented floods hit Sudan over various phases. Khalifa bin Zayed Al Nahyan Foundation sent Sudan 30 tons of aid, including 15 tons of essential food and medical supplies to the states of River Nile, Gezira, White Nile, West Kordofan, South Darfur, and Kassala. An aid plane carried 15 tonnes of food, including rice, flour and sugar, as well as 15 tonnes of medical items and 10,000 tents to Sudan.
Zimbabwe
As a reflection of strong relations between the two nations, UAE sent an aid plane carrying 50 tonnes of essential food items to Zimbabwe to meet the needs of vulnerable families and age groups such as elderly, women and children and combat the Covid-19 pandemic.
UAE's "1 Billion Meals" initiative provides 2.5 million meals across 7 Asian countries
UAE's '1 Billion Meals Initiative', which is also the region's largest food donation drive, the country has successfully completed distribution of over 2.5 million meals across 7 Asian countries in collaboration with the Mohammed bin Rashid Al Maktoum Humanitarian and Charity Establishment (MBRCH). The initiative has provided food support to scores of undernourished people in India, Pakistan, Tajikistan, Kyrgyzstan, Kazakhstan, Philippines, and Cambodia. The meals, in the form of food parcels comprising ingredients to enable individuals and families to prepare healthy and nutritious meals for several weeks, were delivered directly to approximately 75,000 beneficiaries, as reported by state news agency WAM.
Approximately 1,537,500 meals were distributed in various cities, villages, and rural areas of India, and 800,000 meals were distributed equally in four countries, 200,000 meals in each – in Kashmir, Bagh, Jrb Doteeh, and Muzaffarabad in Pakistan, in the cities and villages of Dushanbe, Kulob, Narakin, Varzob, and Jadat in Tajikistan, in Bishkek, Osh, Jalalabad, and Alshui in Kyrgyzstan, and in the cities and villages of Astana, Shymkent, and Almaty in Kazakhstan. Furthermore, 100,000 meals were distributed in Surigao, Bubuthag, and Baghdaian in the Philippines, and another 100,000 meals were distributed to beneficiaries in Phahkong, Kampong Som and Kamion in Cambodia.
The UAE has always been persistent and leading in extending humanitarian aid to people in need and countries during times of crisis. In recent times, UAE has established itself as a pioneer in extending support and aid to people, showcasing the values of humanity and empathy that it abides by.