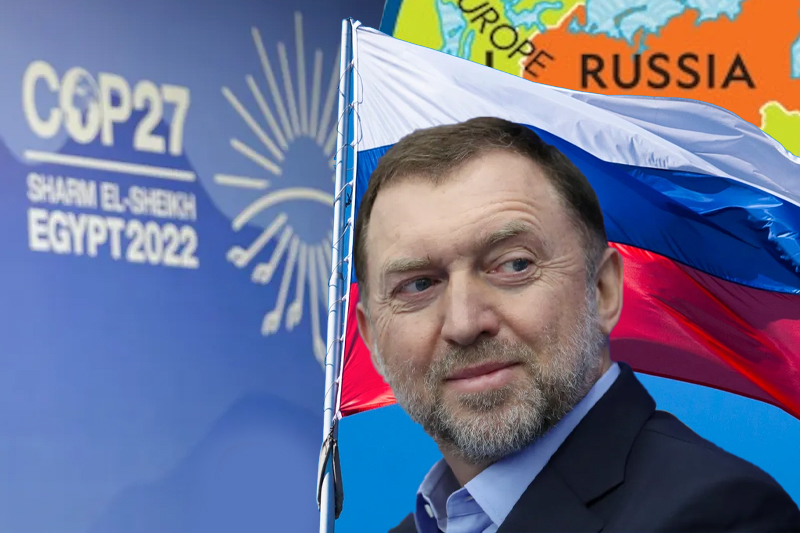 sanctioned russian entities make majority of lobbyists at cop27
Sanctioned Russian entities make majority of lobbyists at Cop27
A large number of lobbyists are participating at the ongoing UN Climate Summit, Cop27 in Egypt, and a majority of them are Russian oligarchs and officials from companies that have been sanctioned by various nations. These entities and officials form part of Russian delegation at the climate summit. These include the billionaire and former aluminum magnate Oleg Deripaska, who is currently sanctioned by the UK, and the billionaire Andrey Melnichenko, the founder and former board member of the Swiss headquartered fertiliser company EuroChem Group, who has been slapped with individual sanctions by the European Union.
Gazprom, the Russian gas giant has sent a delegation of six officials to the climate talks, along with the managing director of Sberbank. Both the companies are under sanctions imposed by the United States and European Union. Representatives from the oil company Lukoil, the mining company Severstal, and Magnitogorsk Iron and Steel Works are also attending the Cop27 at Sharm el-Sheikh in Egypt, with all being under US sanctions.
The presence of the energy industry lobbyists and executives from the oil and gas industry, including six representatives from the Russian Union of Industrialists and Entrepreneurs, which is a lobby group in Russia, suggests that the country is using this platform of critical climate talks to roll out its business. It can also be a possibility that the Russian delegations might be using this opportunity to promote the unsanctioned industries in Russia, such as metals and fertilizers.
Keep Reading
Amid the Cop27 debates and discussions, the various environmental groups, scientists and representatives have raised fears that "energy crisis of Europe could be used as a pretext for further gas exploration in Africa, rather than a push to increase renewable energy resources worldwide", as noted by The Guardian.
Russia is fourth largest emitter of greenhouse gases and third largest supplier of oil globally, after the US and Saudi Arabia, having a flaky environmental record, including a decade of Arctic drilling for additional supplies of fossil fuels while permafrost continues to melt under rising global temperatures. Putin's climate envoy, Ruslan Edelgeriev, said at the Cop27 talks that "if there were no sanctions, or restrictions or any discriminatory approaches, the Russian Federation could have come to carbon neutrality earlier".
Dr Oleksiy Ryabchyn, a Ukrainian member of the delegation at Cop27, said it was "ridiculous to know that Russian oligarchs are sneaking through the corridors. It is ridiculous that they are able to freely travel. For me, if these oligarchs are not able to stop this bloody war then they should not be [at Cop]. Ukrainian NGOs tried to find those Russians to organize a protest but they are hiding in offices and are afraid to walk freely in the corridor. We see that Russia is in complete isolation at this conference."