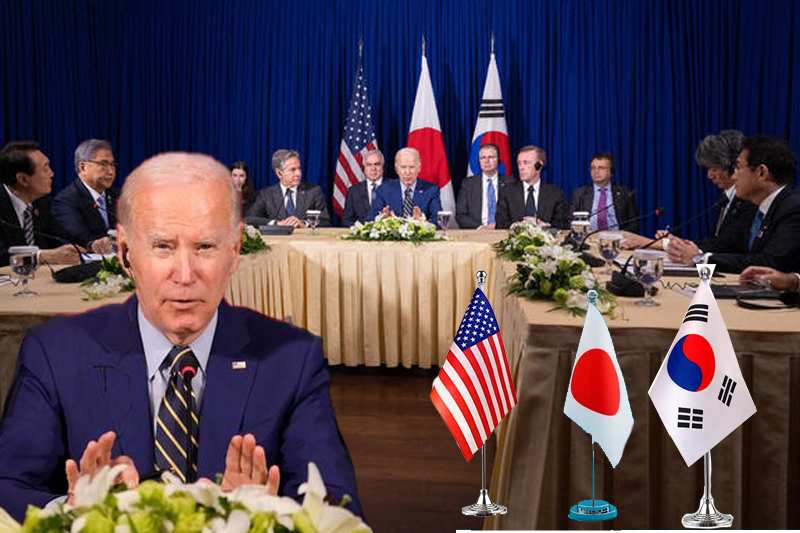 asean us joins hands with japan south korea against north koreas threats
ASEAN: US joins hands with Japan, South Korea against North Korea's threats
On the sidelines of ongoing ASEAN summit in Cambodia, US President Joe Biden joined hands with the leaders of Japan and South Korea as they vowed to have a unified and tri-nation coordinated response to North Korea's escalating threats through its nuclear and ballistic missile programs. President Biden declared that the three-way partnership of the three countries is "even more important than it's ever been" as North Korea is stepping up its provocative acts.
Biden had separately met the Japanese Prime Minister Fumio Kishida and South Korean President Yoon Suk Yeol before joint meeting of all the three leaders. The meeting stressed and focused largely on the recent escalations by North Korean leader Kim Jong Un. President Biden, however, also said that the three leaders would also be discussing ways to strengthen the supply chains between the three nations and on how to preserve peace across the Taiwan strait, while extending support to Ukraine amid continuing aggression by Russia.
Keep Reading
"We face real challenges, but our countries are more aligned than ever, more prepared to take on those challenges than ever," Biden said. "So I look forward to deepening the bonds of cooperation between our three countries." Biden is also reportedly planning to seek inputs from Yoon and Kishida on how to tackle China's growing assertion in the region as he sets to face Chinese President Xi Jinping.
U.S. National Security Adviser Jake Sullivan told the media on Saturday that President Biden would be utilizing the meetings with other leaders to strengthen the joint response by three countries to the dangers posed by Democratic People's Republic of Korea. "What we would really like to see is enhanced trilateral security cooperation where the three countries are all coming together," he said. "That's acutely true with respect to the DPRK because of the common threat and challenge we all face, but it's also true, more broadly, about our capacity to work together to enhance overall peace and stability in the region."