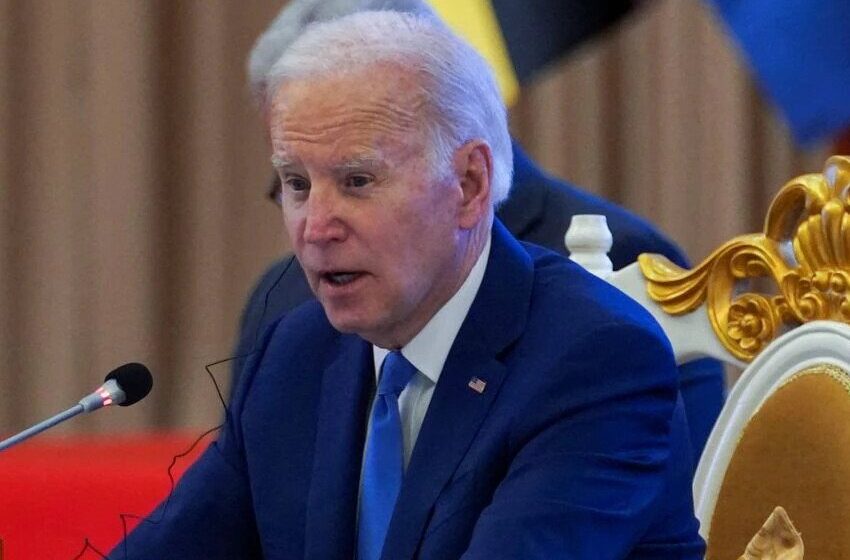 biden says us asean pact addresses our generation's biggest issues
Biden says US-ASEAN pact addresses our generation's biggest issues
Saturday, November 12, Southeast Asian heads of government met with visiting world leaders, including US President Joe Biden, who lauded the introduction of a new US-ASEAN accord as a crucial step toward addressing "the most pressing concerns of our day."
During his first visit to Southeast Asia as president, President Biden stated that the region was crucial to the Indo-Pacific policy of his administration and that the United States was dedicating resources, not just words, under a new Comprehensive Strategic Partnership.
"Together, we will face the most pressing concerns of our day, from climate change to health security, in order to safeguard the rule-based system," he said as he opened a summit in Cambodia with the ten presidents of the Association of Southeast Asian Nations (ASEAN).
"We will establish a free and open, stable and prosperous, resilient and secure Indo-Pacific," he continued.
ASEAN is negotiating with a number of world leaders, including President Biden, Japanese Prime Minister Fumio Kishida, Australian Prime Minister Anthony Albanese, and South Korean President Yoon Suk-yeop.
The conference is the first in a series of seven summits that will be held around Southeast Asia over the next week to debate complex global issues, including the conflict in Ukraine, climate change, and regional concerns over the Taiwan Strait, South China Sea, and North Korean missile launches.
The United States is attempting to reassert itself following a time of regional uncertainty on its commitment under former President Donald Trump and aggressive efforts by China to increase its influence and fill the hole.
Last year, China and ASEAN announced the establishment of a comprehensive strategic relationship.
Earlier on Saturday, South Korean leader Yoon proposed a structure for communication with China and Japan to handle future problems, such as the effects of war on food and energy security and climate change.
Keep Reading
Yoon and Kishida both called North Korea's efforts to increase its nuclear and missile capabilities a grave and unacceptable threat.
In a separate conversation with Chinese Premier Li Keqiang, Kishida stated that Japan and China should work to develop a "constructive and stable relationship."
Friday, ASEAN leaders issued a "warning" to Myanmar's military commanders, who were prevented from attending the summit, to show demonstrable peace plan progress.
On Sunday, world leaders will attend the East Asia Conference in Phnom Penh, Cambodia, ahead of a business meeting and a G20 leaders summit in Bali the following week, and then they will travel to Bangkok for the Asia-Pacific Economic Cooperation (APEC) forum.
A senior administration official stated earlier this week that Biden will focus on the Indo-Pacific area and the US commitment to a rules-based order in the South China Sea at these summits.
Some experts downplayed the likelihood of any significant advances as a result of Biden's visit, but observed that it represented the United States' return to "regular diplomacy," including the strengthening of strategic connections with ASEAN.
Greg Poling, director of the Southeast Asia program at the Center for Strategic and International Studies in Washington, said, "That doesn't signify anything real, but symbolically it puts the US on par with China."
Biden stated on Saturday that the meetings would focus on Russia's "brutal" campaign against Ukraine and U.S. attempts to mitigate the global impact of the conflict.
Russian Foreign Minister Sergei Lavrov is representing President Vladimir Putin at these events, while Indonesia confirmed on Saturday that Ukraine's President Volodymyr Zelenskiy will deliver a virtual address at the G20 summit.
Ukraine seeks to expand its relationship with ASEAN, and its foreign minister, Dmytro Kuleba, has urged ASEAN countries to denounce Russia's invasion of Ukraine, stating that remaining neutral is not in their best interests.
In addition, he has urged them to prevent Russia from obstructing the transportation of Ukrainian agricultural products in accordance with a Black Sea grain pact that could expire on November 19 and to "stop Russia from playing hunger games with the world."