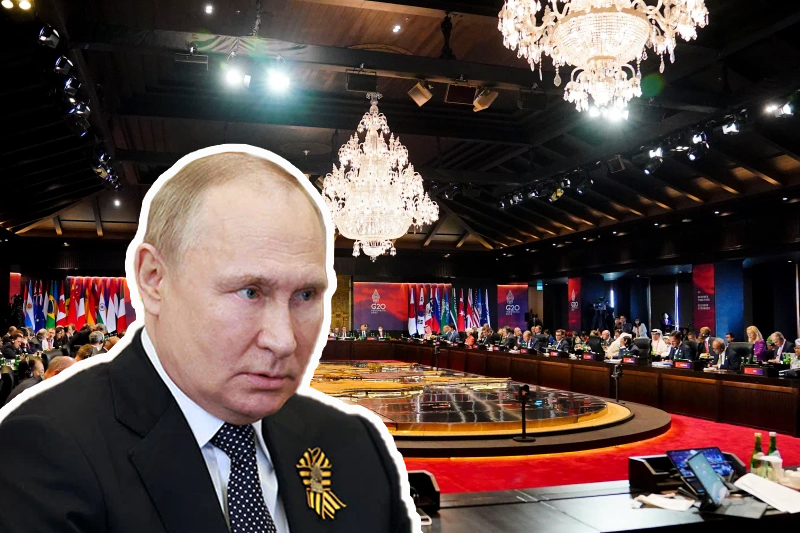 putin has lost his spot at the global leadership table
Putin has lost his spot at the global leadership table
Past few weeks have witnessed three major summits held across the word – G20, ASEAN and APEC. The one common angle to all summits was absence of Russian leader Vladimir Putin from the global leadership table, and out loud condemnation of Putin's war in Ukraine. A scene that prompts explanation that era of Russia and Putin on the main table might be over.
Putin had declined to attend all the world summits in past few weeks as the continuing war in Ukraine has stumbled the global economy, created major food and fuel insecurity and triggered massive inflations and looming recession. He has now found himself practically alienated from other major nations on international forums as the international opposition to his war becomes more apparent.
Earlier this week, the Group of 20 (G20) leaders issued a declaration at summit in Bali that read, "Most members strongly condemned the war in Ukraine and stressed it is causing immense human suffering and exacerbating existing fragilities in the global economy." A similar sentiment was echoed at the APEC (Asia Pacific Economic Cooperation) summit in Bangkok. United Nations has also issued a declaration condemning and deploring the Russia's aggression in Ukraine "in strongest terms".
Keep Reading
Though some countries haven't condemned the war and criticized Russia in clear voice, they have raised concerns over the violence and agreed to a common stand that "the war must end". This includes China – China's Foreign Minister Wang Yi has told the state media that Xi Jinping has reiterated China's position in his bilateral meeting with US President Joe Biden on the sidelines of the G20 summit that "nuclear weapons cannot be used and a nuclear war cannot be fought."
The criticism against Russia's Putin is frank and more widespread now, but still some countries are refraining from issuing a clear statement owing to their specific geo-economic and strategic relationships with Russia. "Countries are saying we don't want to just be a pawn in this game to be used to weaken another power," said Suphamongkhon, an advisory board member of the RAND Corporation Center for Asia Pacific Policy (CAPP). "Instead framing censure of Russia around its violation of international law and war crimes that may have been committed" would hit on aspects of the situation that "everyone rejects here," he said.