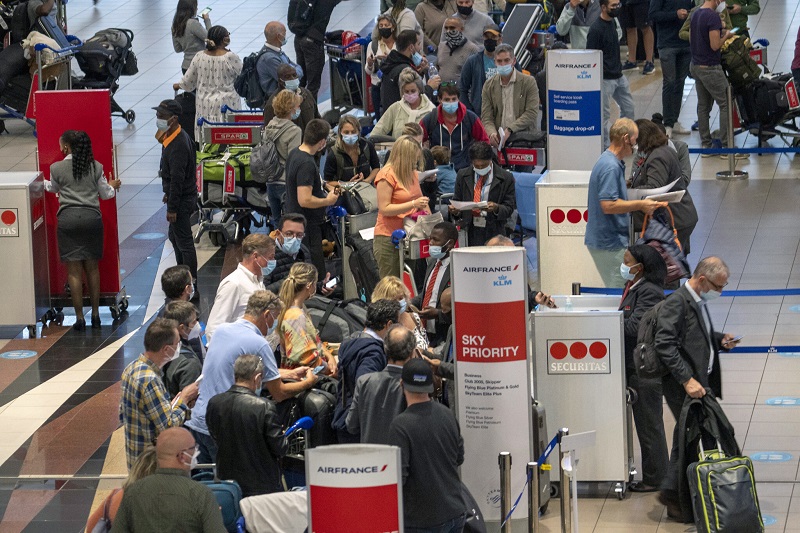 aptopix virus outbreak new variant
The Omicron variant: World races to curb new COVID threat
United Kingdom -The World Health Organization (WHO) has termed Covid-19's Omicron variant as a "matter of concern", forcing countries across the globe to impose travel restrictions amid fears of its spread.
Omicron was first found in South Africa and has since been detected in Israel, Botswana, Belgium, and Hong Kong.
As per a WHO advisory panel, the variant poses a surged risk of reinfection compared with other transmissible strains.
Meanwhile, the United Kingdom and the European Union (EU) have imposed travel restrictions on people coming from several countries of Africa. On Friday, the United States announced similar curbs to begin from next week onwards.
On the other hand, researchers are busy finding out if the mutation is vaccine-resistant.
Related Posts
WHO's Covid-19 Technical Lead, Maria Van Kerkhove, said Friday that Omicron was named "a variant of concern" because of some of its "worrying" properties. She said that the virus had been included in the category of the predominant delta variant, which still is a scourge driving higher cases of infections and deaths in Europe and all parts of the United States.
"It has a vast number of mutations, and many of these mutations have worrying characteristics," Kerkhove said in a video on Twitter. She noted that multiple studies were underway in South Africa and other countries to understand the transmissibility, severity, and characteristics of Omicron.
Omicron's actual risks are not studied yet. But early evidence shows that it carries an increased risk of reinfection than other highly transmissible variants. That means people who contracted the virus and recovered could catch it again. It could take a few weeks before we know if the in-use vaccines are effective against it.
Medical experts had warned against any overreaction before Omicron was thoroughly studied. However, a troubled world fears the worst after the pandemic has killed more than 5 million people.