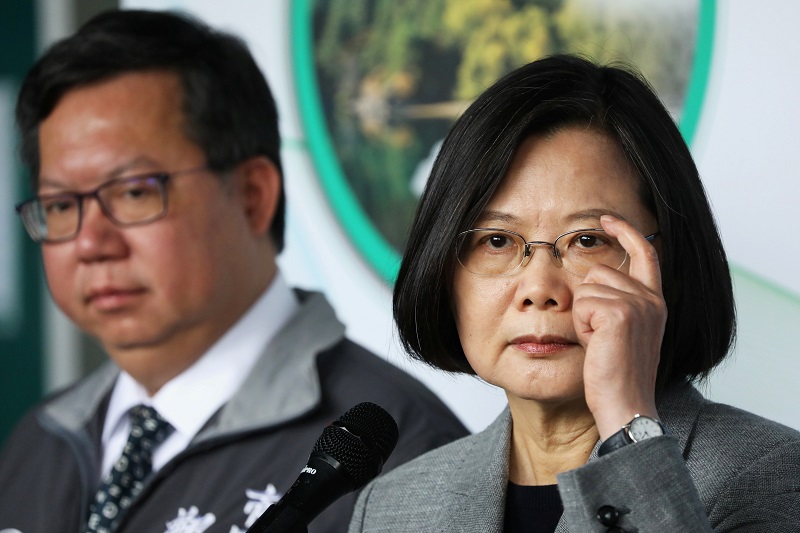 taiwanese president tsai ing wen answers the media during a visit to a non woven filter fabric factory, where the fabric is used to make surgical face masks, in taoyuan
Taiwan Is In No Mood To Bow Down To Chinese Pressure: President Tsai Ing Wen
Taiwan –Taiwanese President Tsai Ing-wen has made it clear to China that it will never 'bow to pressure' and has pledged that it will bolster the island's defenses to protect its 'democratic way of life.' This was communicated by Tsai Ing-wen on Taiwan's National Day, a day after Chinese President Xi Jinping actually vowed to achieve a so-called 'peaceful reunification' with the island.
Last week, Chinese President XI Jinping gave a sugar-coated pill when he gave the message to the media saying that Beijing wouldn't tolerate separatism and therefore wanted a peaceful reunification, as much as possible. He went to quite a length to say that Xi saw the "Taiwan independence" movement as a major barrier adding that 'those who forget their heritage, betray their motherland and seek to split the country will come to no good.'
Taiwan President has said that a record 145 Chinese fighter jets have entered Taiwan's air defense identification zone since October 10. Tsai has said that it intends to bolster its defense capabilities; but it also has the heart to resolve the issue with peaceful talks.
Related Posts
The declaration to media is no less than a threat that it has to be surrender of the Chinese terms. Taiwan continues to consider itself a sovereign and this has been well taken by many Western countries itself. However, China has forced the US, who has been Taiwan's long-standing alliance, to accept the One China Policy. Under this agreement, China wishes to be the only one to have a government and every country it feels should be within its jurisdiction, will be its subsidiary.
Frequent trips by America to Taiwan have been to strengthen its trade relations only. The US sells arms to Taiwan as part of Washington's Taiwan Relations Act, which states that the US must help Taiwan defend itself.
In the past few days, China has repeated disrupted air peace by sending multiple military jets into Taiwanese aerospace. This has been seen as a way of bullying and creating pressure on Taiwan ahead of its National Day.
Speaking at an event marking the 110th anniversary of the revolution that overthrew China's last imperial dynasty in 1911, he said unification in a "peaceful manner" was "most in line with the overall interest of the Chinese nation, including Taiwan compatriots". Taiwanese counterparts admit that relations with China have not been as worst as it is as of now.
China is wishing to implement a 'one country, two systems' principle something similar to Hong Kong. The latter has not been happy with its fictious democratic status.