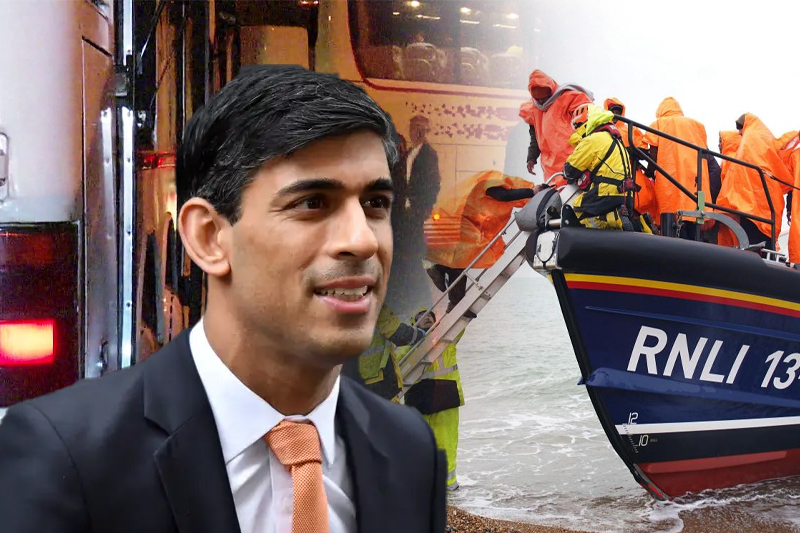 strongrishi sunak plans to clear uk asylum backlog by 2023 end strong
Rishi Sunak plans to clear UK asylum backlog by 2023 end
Prime Minister of United Kingdom, Rishi Sunak has vowed to clear out backlog of applications of asylum seekers as part of a new series of measures to curb the number of migrants that reach UK after Channel crossings. He also shared with his ministers the policies including resuming the "hostile environment" checks on bank accounts that was suspended after the Windrush scandal.
A five point plan was shared by PM Sunak in the Commons that included law changes to criminalize and remove scores of people who claim asylum in UK after reaching here by small boats, and also signing a deal with Albania to help sending the Albanians back. But the plan has been criticized by some of the Conservative MPs including Theresa May, who said that "one announcement – a promise to overhaul modern slavery laws – might undermine protections for victims".
Sunak said he also has plans to revive the data sharing powers to help in stopping migrants who reached the UK by "irregular means from obtaining bank accounts". "It is frankly absurd that today illegal immigrants can get bank accounts which help them live and work here," he told MPs. "So we will restart data sharing to stop this."
Keep Reading
Sunak has been facing mounting pressure from the leaders in his country to curb the rising numbers of migrants that are reaching UK seeking asylum. He also shared his plans to introduce a new legislation early next year that would keep a check on people arriving in the country illegally. More than 10,000 Albanians have reached the UK to seek asylum this year, "making up nearly a fourth of the record 44,000 people who made the dangerous journey across the busy waterway on small boats to the UK".
Sunak stressed that Albania is a "fundamentally safe country" and that "most asylum claims from its citizens are unfounded". He added, "Over the coming months, thousands of Albanians will be returned home, and we will keep going with weekly flights until all the Albanians in our backlog have been removed." PM Sunak said that Britain has received formal assurances from the government of Albania that "they will protect genuine victims and people at risk of re-trafficking, allowing us to detain and return people to Albania with confidence".