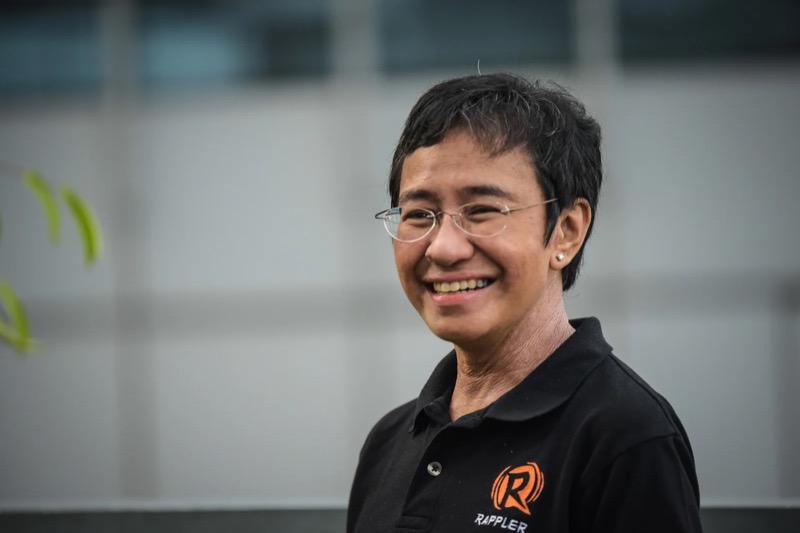 Philippines orders Rappler to close, founder Maria Ressa says
Philippines orders Rappler to close, founder Maria Ressa says
Maria Ressa, a Nobel Peace Prize laureate and journalist, announced Tuesday that the Philippine government had ordered her news organization Rappler to close.
Dmitry Muratov, a Russian journalist, and Ressa won the Nobel Peace Prize in 2021 for her efforts to protect freedom of speech in the Philippines. As a result of its honest reporting on Duterte's violent "war on drugs," Rappler quickly rose to fame.
After Duterte's presidency, press freedom in the Philippines worsened quickly, and the country now ranks 147th out of 180 countries as seen on the Reporters Without Border (RSF) press freedom index.
CEO and founder of Rappler, Ressa, issued a statement at the East-West Center International Media Conference in Honolulu to indicate Rappler's operating license has been revoked by the Philippine Securities and Exchange Commission (PSEC).
Former CNN bureau head and TIME Person of the Year, Ressa, has declared that the team will appeal this judgment "particularly since the proceedings were highly irregular."
Maria Ressa told Rappler staff in an internal announcement, "What does this mean? We have existing legal remedies all the way up to the highest court of the land. It is business as usual for us since, in our view, this is not immediately executory without court approval."
Recently, Ressa has been embroiled in court fights and claims she has been singled out for harassment because of her news site's critical reporting on the government of outgoing President Rodrigo Duterte.
Related Posts
Rappler's registration was canceled in January 2018 by the Philippine Securities and Exchange Commission (SEC) for allegedly violating foreign ownership regulations. Despite the revocation, the newsroom continued to operate.
To cover up an investment from a foreign source, the SEC claimed that Rappler's parent firm "intentionally established an elaborate scheme." They also claimed that the organization is a "mass media entity that sold power to foreigners."
In the Philippines, foreign ownership of media companies is prohibited by law.
According to Rappler, the funding came from the Omidyar Network, an investment company founded by eBay founder and entrepreneur Pierre Omidyar.
Rappler rejected foreign ownership and stated the Philippine Depositary Receipt (PDR), a financial tool that oversees that the Omidyar investment, did not give the network any authority over the company. The SEC approved the deal in 2015, according to the document.
The Philippine Securities and Exchange Commission (SEC) and the Philippine Embassy have yet to respond to CNN's inquiries.
Rappler is a "mass media entity" as defined by the Philippine SEC, which "affirmed and reiterated its earlier finding" from 2018 that Rappler gave control to a foreign entity "via the Philippine Depositary Receipt given to Omidyar Network," in an order announced on Wednesday.
Just a day before Duterte leaves office and is succeeded by Ferdinand Marcos Jr., the Philippines will be led by a new president, and the ruling will come down. Former dictator Ferdinand Marcos' son, Marcos Jr., has been encouraged by media organizations to safeguard the country's media freedom, although some observers are concerned about his relationship with the press.
As Rappler's Philippines correspondent, Ressa has frequently spoken out against the difficulties, she and her team have faced in covering the country's news. A slew of politically motivated legal challenges has been leveled against her, including a possible six-year prison sentence for cyber libel and allegations of tax violations.
According to her statement to CNN back in 2021, she said, "Journalists have been targeted in ways that we've never gone through since the days of (Marcos Sr.). In less than two years, I've had ten arrest warrants that were filed against me, and I haven't done anything different from what I've been doing (before)."
Responding to the ongoing harassment that Rappler has endured over the last six years, Ressa remarked in a press conference that "our goal is to continue holding the line." "This is intimidation. These are political tactics. We refuse to succumb to them," she added.
"We're not going to voluntarily give up our rights. And we really shouldn't. I continue to appeal for that because when you give up your rights, you're never going to get them back."
"We strongly disagree with the decision," Rappler's legal counsel Francis Lim told reporters, adding that "legal remedies are available to question the decision before courts of law."