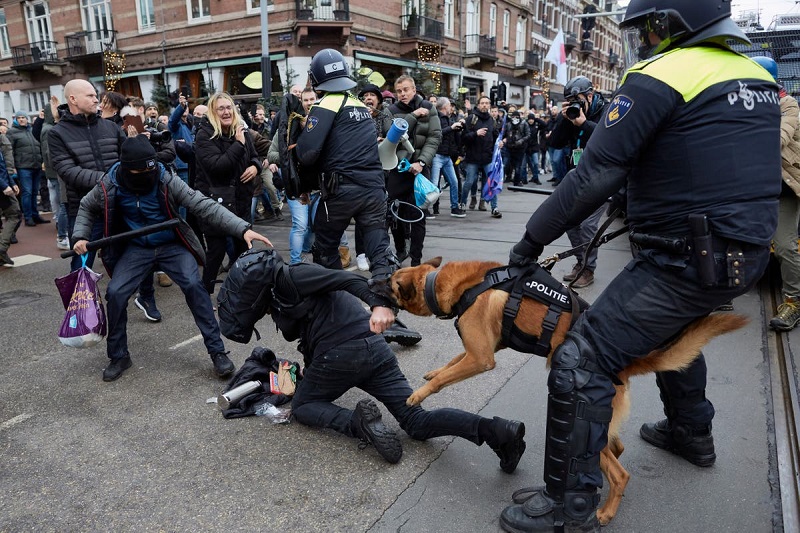 dutch police clash with anti lockdown protesters in amsterdam
Dutch police clash with anti-lockdown protesters in Amsterdam
Last updated on January 4th, 2022 at 03:54 am
Dutch – Riot police with batons and shields clashed with a crowd gathered on Sunday in Amsterdam to protest against coronavirus lockdown measures and vaccinations.
At least 30 people were arrested after scuffles. In a statement, the police said that about four of its officers were injured.
According to media reports, public gatherings of more than two people have been prohibited under restrictions imposed by the Dutch authorities. The government is trying to prevent the spread of the Omicron variant as the healthcare system is already strained.
It merits mentioning that the Dutch authorities had announced a strict lockdown over Christmas amid concerns over the new coronavirus variant.
Gyms, hairdressers, non-essential shops, bars, and other public venues have been closed until mid-January. Moreover, two guests per household have been allowed over the four Christmas holidays.
Related Posts
Prime Minister Mark Rutte said the enforced measures were "unavoidable". The new rules come into force on Sunday – the strictest announced over Omicron so far.
Amsterdam mayor Femke Halsema issued an emergency ordinance, asking police to clear the Museum Square after masses defied a ban on public gatherings.
The protesters did not wear masks or adhere to the social distancing rules, ignored the government's order not to protest and walked along a main thoroughfare, holding yellow umbrellas, and playing music in a sign of opposition to government measures.
Countries across Europe have been going hard on restrictions as the heavily mutated Omicron variant spreads.
"I stand here in a sombre mood," Rutte told a news conference on Saturday. "A lot of people watching would feel that way too. To sum it up in one sentence, our country will go back into lockdown tomorrow."
The Netherlands is stocking up about 6 million extra Covid-19 vaccines for the additional booster rounds. The vaccine doses have been adapted for the Omicron variant – like 12 million previously ordered jabs of Pfizer/BioNTech.