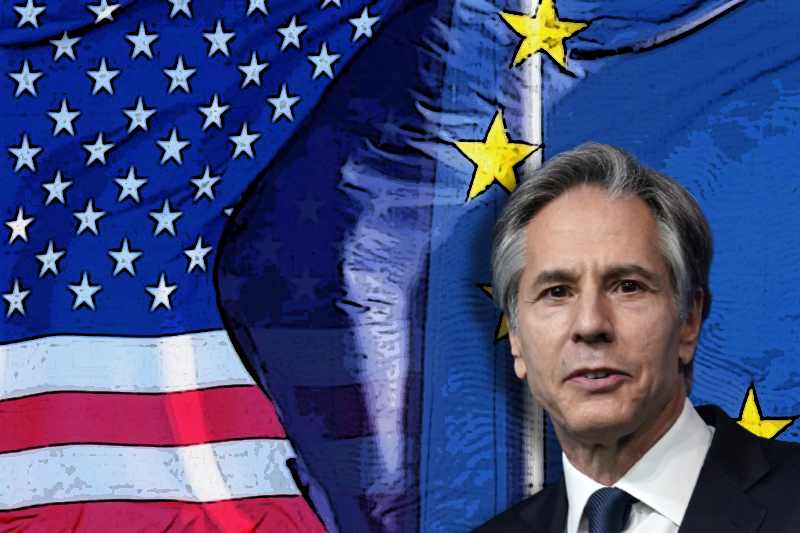 blinken visits brussels
Blinken visits Brussels to rebuild ties with NATO allies and EU
On Tuesday, the US Secretary of State, Antony Blinken, took his first official trip to Brussels to rebuild ties with Washington's NATO allies and EU. US top diplomat reiterated Biden administration's agenda to "revitalize and repair relationship" between EU and US, which were strained under previous administration led by Donald Trump. In the two-day  NATO summit, Blinken is expected to hold discussions with NATO Secretary-General Jens Stoltenberg. Besides, Blinken would also hold meeting with EU foreign ministries over various issues including tackling the Covid-19 pandemic, climate change, terrorism, and challenges posed by nations such as China, Iran, and Russia.
Stoltenberg saw the fresh round of talks between two sides as a "unique opportunity to start a new chapter in the transatlantic relationship". The key agenda of his meeting with Blinken was said to be focused on NATO's mission in Afghanistan. It's important for all the allies to decide together the next move, especially amidst the fast approaching May 1 deadline, which marked the complete withdrawal of US forces from Kabul as part of the peace agreement signed between the Taliban and the Trump administration. 
Related Posts
The new US administration under Joe Biden has so far not taken any decision if it would go ahead with complete pull out of US troops or not. Blinken said that the matter was still under review. He added that final decision would be taken in consultation with all member nations who took part in the decade-old military mission. "We went in together, we have adjusted together, and when the time is right, we'll leave together." Blinken said. 
Stoltenberg stressed opting for the peace effort, stating that peace was the "only path to a lasting political solution in Afghanistan." At the same time, the NATO chief emphasized the need for following peace agreement in good faith by all parties involved. Following the warning issued by the Afghan government against NATO troops withdrawal, Stoltenberg demanded the Taliban, the Afghan insurgent group, to a reduction in its violent activities and discontinuation of its support for international terror outfits such as al-Qaida. 
Blinken's Monday visit to Brussels was followed by US and EU's coordinated sanctions on officials from China and Myanmar for conducting human rights abuses against the Muslim Uyghur minority and executing the coup, respectively. "A united transatlantic response sends a strong signal to those who violate or abuse international human rights, and we will take further actions in coordination with like-minded partners," Blinken said in a statement Monday.