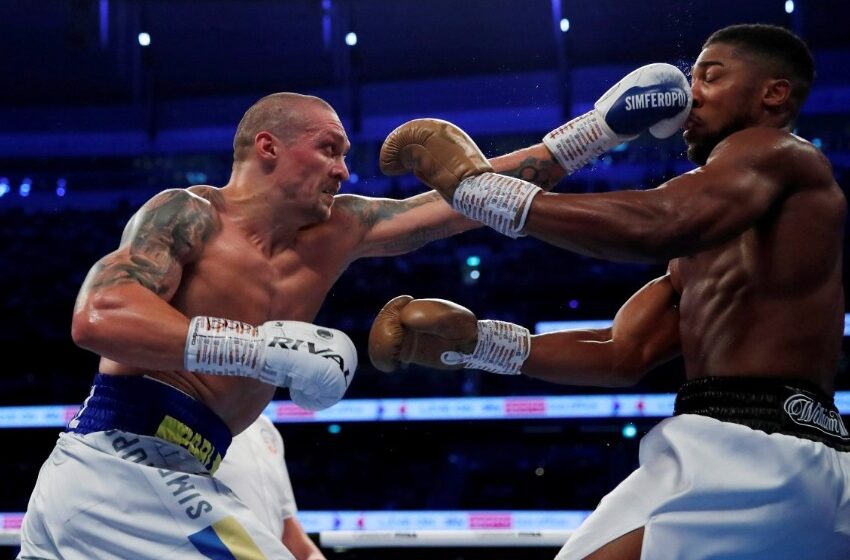 usyk is eyeing fury after defeating joshua in a split decision
Usyk is eyeing Fury after defeating Joshua in a split decision
After defeating Britain's Anthony Joshua in Jeddah on Sunday, August 21, in a split points decision to defend his WBA, WBO, IBF, and IBO heavyweight world championship titles, Oleksandr Usyk shifted his focus to challenger Tyson Fury for the title of heavyweight world champion.
The "Rage on the Red Sea" fight in Saudi Arabia was a rematch of a fight that took place in London in September. That fight was won by the Ukrainian on a unanimous decision to take Joshua's belts. However, this fight in Saudi Arabia featured a much higher level of intensity and emotion than the first fight.
Both Usyk and Joshua, previous Olympic champions, were under a great deal of strain, but Usyk was representing a country that was fighting for its very existence after Russia invaded it, and Joshua was fighting for his boxing future.
As the final bell rang at the King Abdullah Sports City Arena, Usyk appeared to have a comfortable lead over Joshua. However, an American judge gave the fight to Joshua in a stunning decision of 115-113.
Both the British and Ukrainian judges found in favor of Usyk, with scores of 115-113 and 116-112 respectively.
As a result of the win, the 35-year-old boxer improved his professional record to 20 fights, during which he did not suffer a single loss. In contrast, Joshua, 32, was knocked out for the third time, which may prove to be a turning point in his career.
After holding the Ukrainian flag aloft with Usyk while they waited for the decision in a manner that appeared to be an acceptance of defeat, Joshua then had an uncommon meltdown.
He grabbed two of the belts and then tossed them aside as he exited the ring and made his way to the backstage area. However, before he did so, he turned around and reentered the ring so that he could take the microphone and address the audience.
"Usyk is a fighter of the highest caliber. The Briton remarked that what was being expressed was merely feeling."
"For this guy to beat me tonight, maybe I could have done better, but it shows the levels of hard work he must have put in, so please give him a round of applause as our heavyweight champion of the world. "
"For this guy to beat me tonight, maybe I could have done better. But it shows the levels of hard work he must have put in."
"I was researching Ukraine and all of the champions that have come from your incredible nation. I've never been there. I have no idea what's going on over there, but whatever it is, it's certainly not pleasant… Under those conditions, he has triumphed to the point of becoming champion."
The first round was cautious, with Joshua's corner urging for him to modify his rhythm. As the fight went, Usyk used his jab and body blows to good effect. Joshua's corner called for him to adjust his rhythm.
After the eighth round, the action was briefly delayed so that towels could be used to clean the sweat-soaked and slick canvas. Round nine brought the intensity back up, with Joshua having his finest round before Usyk fought back strong in the tenth.
Joshua, who was larger and heavier than his opponent, was unable to deliver the strikes that would have ended the fight against an opponent who was quick, elusive, and punched back with force. Joshua needed a knockout and was running out of time.
Related Posts
Eddie Hearn, Joshua's promoter, revealed that he believed they had the fight won after the ninth round. "The tenth round was one of the most exciting rounds I've ever witnessed."
"What Usyk did in the 10th, the 11th, and the 12th was great, and that was the difference tonight because AJ didn't start fast enough, but he fought a much better fight," said Usyk after the bout. "AJ didn't start fast enough, but he fought a much better fight."
"In the ninth round, he inflicted significant damage on Usyk, and I had the impression that he was going to come on hard. However, Usyk emerged like a freight train."
At the end of the match, Joshua and his opponent embraced one another, and Joshua got down on his knees before the Ukrainian, who had entered the ring wearing a yellow and blue "Colors of Freedom" top, while Joshua was clad in all black.
After that, Usyk's attention shifted to the next chapter and another Briton to defeat, despite the fact that WBC champion Fury has announced his retirement from the sport.
"I have no doubt that he is interested in a battle with me. I have the need to fight with him. And if I'm not fighting Tyson Fury, I'm not fighting at all," Usyk said to the crowd through an interpreter who was stationed at ringside.
President Volodymyr Zelenskiy of Ukraine applauded the outcome, calling it a "challenging but crucial and vital win."
"Defending a world championship title is a symbol that whoever is from the Cossack tradition will not give up what is his, will fight for it, and will win without any doubt," he wrote on Facebook. "Defending a world championship title is a symbol that whoever is from the Cossack tradition will not give up what is his."